This is not the first time Rep. Maxine Waters has lost it and it certainly won't be the last. Someone should really check her meds. After Trump's recent comments about 'sh**hole' countries, according to the one Democrat in the private meeting who heard it, Democrats including Maxine Waters are all over Trump. Have you asked yourself why only ONE member heard Trump use the term in the first place? Please! WE all know your narrative for the Trump-Russia collusion fell apart, so now you have a new one!
Liberal U.S. Rep. Maxine Waters lost her mind while taking about President Trump on MSNBC, even calling him "the most despicable human being."
Waters appeared Friday on MSNBC's "All In With Chris Hayes" to comment on President Trump's alleged comments he made where some claimed he called some Third World nations "s***hole countries."
Instead of engaging in a discussion with Trump-hating guest host Joy Reid, Waters went off on a tirade on the air, slamming the president and making an embarrassment of herself (as she's been known to do).
"I have called him what I know him to be for a long time. Remember when I called him a scumbag. I've called him a racist, deplorable, despicable, adding to what others are calling him –– a moron, ignorant, on and on and on," she said.
"The United States of America is being represented by the most despicable human being that could possibly ever walk the earth," she continued.
The word vomit didn't stop.
"Not only is he racist, he is an embarrassment for this country," she said with hate in her voice.
Watch the disgusting tirade below. Waters' rant starts about the 2:25 mark:
Later, Waters tweeted a lengthy statement on what she called President Trump's "racial slurs against immigrants."
In that statement, Waters continued her tirade, calling the president a "a racist and indecent man with no good values."
"Donald Trump is an embarrassment and a national disgrace," the statement continued.
Waters then continued her mental breakdown, calling for Trump's impeachment —again. "Members of Congress have a responsibility to the American people and our democracy to impeach him," she stated.
Please read my statement on Donald Trump's racist slurs about immigrants!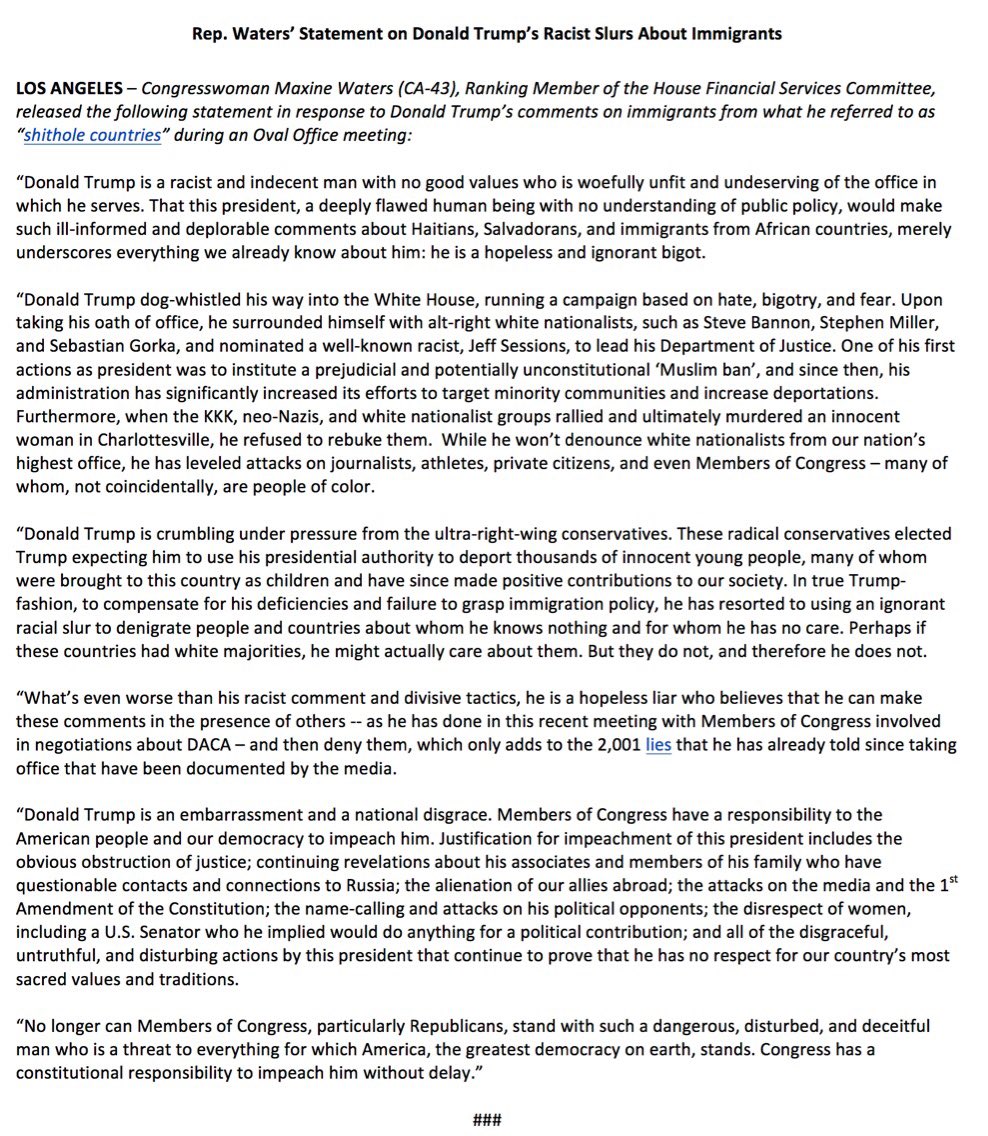 In addition, The Hill reported:Rep. Maxine Waters (D-Calif.) said she will not attend President Trump's first State of the Union address following his vulgar remarks aimed at Haiti, El Salvador and African nations.
"Why would I take my time to go and sit and listen to a liar?" Waters said on MSNBC's "All In with Chris Hayes." "Someone who lies in the face of facts, someone who can change their tune day in and day out. What does he have to say that I would be interested in?"
"I don't trust him, I don't appreciate him and I wouldn't waste my time … listening to what he has to say," she continued. "He does not deserve my attention."
So it seems Maxine Waters has joined three other Democrats in Congress, Rep. Earl Blumenauer (D-Ore.), Rep. Frederica Wilson (D-Fla.) and Rep. John Lewis (D-Ga.) who will be boycotting President Trump's State of the Union address. How nice of them!
Seriously folks, I guess these Democrats just don't appreciate a stronger economy and increased jobs since Trump has been elected. And yet these same Democrats and the Democrat Party can't figure out why they are losing supporters.
Trump just signed one of Rep. Lewis' bills into law, declaring the Rev. Dr. Martin Luther King Jr.'s birthplace in Atlanta a national historic park. Yet, he's STILL called a 'racist'?!
As for Rep. Wilson, she announced her boycott on Monday, saying in a statement: "The United States' reputation is smoldering in the ashes of his recent racist and incendiary remarks about Haiti and African nations. Many of his proposed domestic policies are harmful to people of color, low-income communities, and the middle class. It would be an embarrassment to be seen with him at a forum that under any other president would be an honor to attend."
Again, is she referring to all those middle class jobs or a stronger economy, both due to President Trump's changes in domestic policies.
Members of the Democratic caucus are planning ways to protest during Trump's speech. Female Democrats, including House Minority Leader Nancy Pelosi (D-Calif.), plan to wear all black in solidarity with victims of sexual misconduct and the #MeToo movement.
Some House Democrats are also reportedly planning to invite sexual assault survivors as their guests that evening, and Rep. Jackie Speier (D-Calif.) said she has invited the founder of the #MeToo movement, Tarana Burke, to be her guest that evening.
Good Grief! Why don't we bring up the need to get rid of Congress using taxpayer funds as their own 'slush fund' to pay off sexual harassment victims of their own members? Yeah! Since 1995 and how many taxpayers knew about that? Or that $17 million of taxpayer money has been paid out to 264 cases or victims? How about a list of those still holding office who were the abusers?
At least pervert director Harvey Weinstein didn't use taxpayer funds as hidden slush funds to pay off victims? So if you find Harvey Weinstein so disgusting, how can you NOT find your own colleagues and members of Congress disgusting too!
Such hypocrites!
Resources: Conservative Tribune, The Hill