Former US Attorney: It was a 'Brazen Plot' by the FBI to 'Exonerate' Hillary and 'Frame' Trump
I think we all know by now since Comey came out and used the words "extremely careless" instead of the original words "grossly negligent" in regards to Hillary Clinton's email server.
It was all about protecting Hillary so she could continue to remain a front Democratic candidate for the past presidential election. We were screwed again, Focker!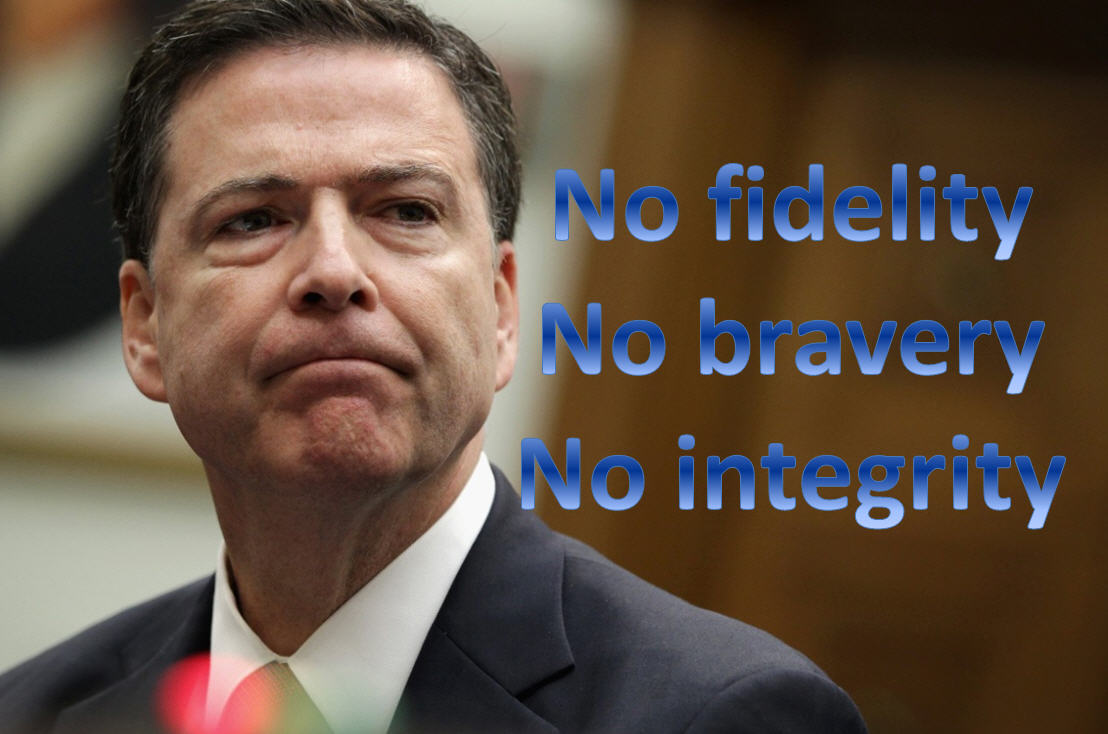 Newly revealed details regarding partisan bias at the FBI are evidence of a conspiracy to absolve former Secretary of State Hillary Clinton and "frame" President Donald Trump, a former U.S. Attorney for the District of Columbia said Friday.
Speaking on Fox News' "Tucker Carlson Tonight," Joe DiGenova said he thinks officials in the Obama Justice Department tried to ensure that Clinton wasn't punished because they wanted her to prevail in the 2016 presidential election.
The goal of this "brazen plot," he said, was "to exonerate Hillary Clinton because of an animus toward Donald Trump."
 If that didn't work, the objective was "to frame the incoming president for either a criminal act or impeachment."
Calling this display "disgusting," he said everyone involved who still works for the DOJ or FBI should be fired.
Even beyond that, he argued that a federal grand jury should be impaneled "to investigate the conduct of … everybody in the Obama Justice Department who even touched this."
 DiGenova was responding to recent revelations many have interpreted as evidence that DOJ officials went easy on Clinton while holding strong anti-Trump biases.
On Thursday, Republican Sen. Ron Johnson, chairman of the Senate Committee on Homeland Security and Governmental Affairs, released to the public a draft of former FBI Director James Comey's statement regarding the Clinton email investigation.
The draft was dated May 2, 2016, two months before the FBI interviewed Clinton. But it still indicated that Comey knew he would not recommend that charges be filed against the former secretary of state, according to Newsweek.
"Comey sold his soul to the devil," DiGenova said in response to this report. He claimed he has heard from agents currently with the bureau who "cannot abide by what's going on."
Moreover, in Comey's draft, Clinton's actions were originally described as "grossly negligent." FBI official Peter Strzok, though, changed the wording to "extremely careless."
While there is no established criminal penalty for handling classified material in an "extremely careless" manner, Clinton may have faced criminal charges if the FBI had characterized her actions as "grossly negligent."
Strzok is the same official who was removed from special counsel Robert Mueller's Russia probe due to anti-Trump text messages he exchanged during the election with bureau attorney Lisa Page, with whom he was having an extramarital affair.
One of those texts seemed to suggest a contingency plan in case Trump won the 2016 election.
"I want to believe the path you threw out for consideration in Andy's office — that there's no way he gets elected — but I'm afraid we can't take that risk," Strzok wrote on Aug. 15, 2016, referring to the possibility of Trump being elected. "It's like an insurance policy in the unlikely event you die before you're 40."
Republican lawmakers and others believe "Andy" may be a reference to FBI Deputy Director Andrew McCabe.
DiGenova said Friday that these texts and others expressing similar sentiments are "frightening."
"They conspired to frame the incoming president of the United States, and it's a frightening and disgusting prospect that FBI officials, senior FBI officials, would do this," he said.
The revelation about the texts is one of the reasons the House Intelligence Committee wants to question McCabe.
McCabe was supposed to appear before the committee on Tuesday, but at the last minute he pushed back his testimony.
The abrupt cancellation came after the revelation that Nellie Ohr, the wife of DOJ official Bruce Ohr, used to work for Fusion GPS, the opposition research firm that created the infamous Trump-Russia dossier.
Pretty sad isn't it. That the Obama administration would use every department including the CIA and FBI to not only monitor the Trump campaign, but then try to discredit Trump or even frame him for crimes that he didn't commit. In fact, Hillary has more crimes that were covered up by the Obama administration that you'd think the FBI would be interested in finding out the TRUTH behind Fusion GPS and the Trump-Russia dossier or Uranium One than trying to pin false accusations on Trump.
Sadly I have to agree with DiGenova – Comey is one of the dirtiest cops EVER in America! So what does that make Hillary?
The Swamp needs to be drained!