17-year-old Chloe Kim, Youngest Woman for Team USA to Win Gold Medal on Snow!
Chloe Kim, 17, became the youngest woman for Team USA to win a gold on the snow! How cool is THAT!?
It was her first ever Olympics, as the teenager clinched a gold medal with a hat-trick in the snowboarding event.
The 17-year-old dominated the women's halfpipe snowboarding final on Tuesday, finishing ahead of the 12 competitor pack with fellow American Arielle Gold claiming the bronze behind China's Jiayu Liu.
With members of her family in the stands, including her South Korean grandmother, Kim put on a show that delivered on her considerable pre-Olympic hype.
Kim put up a score of 93.75 on the first of her three finals runs and then bettered it with a near-perfect 98.75 on her last run with the gold already well in hand.
Kim Chloe won the gold in snowboarding while HANGRY!
In between her second and final rounds, Kim managed to take to Twitter to reveal she regretted not eating all of her breakfast.
'Wish I finished my breakfast sandwich but my stubborn self decided not to and now I'm getting hangry,' she tweeted.
The day before, in sub zero temperatures, Kim tweeted that she wanted ice cream mid-way through the c.ompetition.
Moments after her win, an ecstatic Kim said: 'I'm so stoked. I'm so happy… and being here is so exciting, this has been a dream of mine.
'It's such an honor and do it for my parents. They've done so much for me and my career, I think, and I'm so happy with the outcome.
'It hasn't really sunk in yet. I'm on such a high, an adrenaline rush. I don't really know what just happened.
'I need to go home and process everything and I'll probably bawl my eyes out some more, but this has been a dream of mine since I was a little girl, so just to be here and to be able to do it when it mattered feels amazing.'
What an incredible dream come true! 
Chloe, at 17 years and 296 days, is the youngest woman to win a gold medal on snow at the Winter Games, breaking the mark held by Swiss alpine skier Michela Figini who was 19 days older when she won the ladies' downhill in 1984.
The Californian is also the first woman born in the 21st century to win a gold medal at the Winter Games.
Kim's gold medal win was even more remarkable because finishing fourth was America's Kelly Clark, who Kim had stated was her hero and Olympic role model.
Californian-born Olympian Kim began snowboarding at the age of four – around the same time her hero Clark was wining gold at the 2002 Salt Lake Olympics.
Clark was one of the first to congratulate the teenage sensation who she inspired to follow her golden footsteps.
Chloe Kim – Love for the sport
Kim's Korean parents immigrated to American in 1982 and her father took her along to the slopes to fuel her love for sport.
She said: 'I was not so sure about the sport when I first started, but as I went snowboarding more and started progressing, I started to fall in love with it.
'I just think I had more fun snowboarding when I was able to go into the air and do spins and flips.'
I hate crying but I'll give myself a pass for this one. Thank you everyone for the love! Stoked to bring home the gold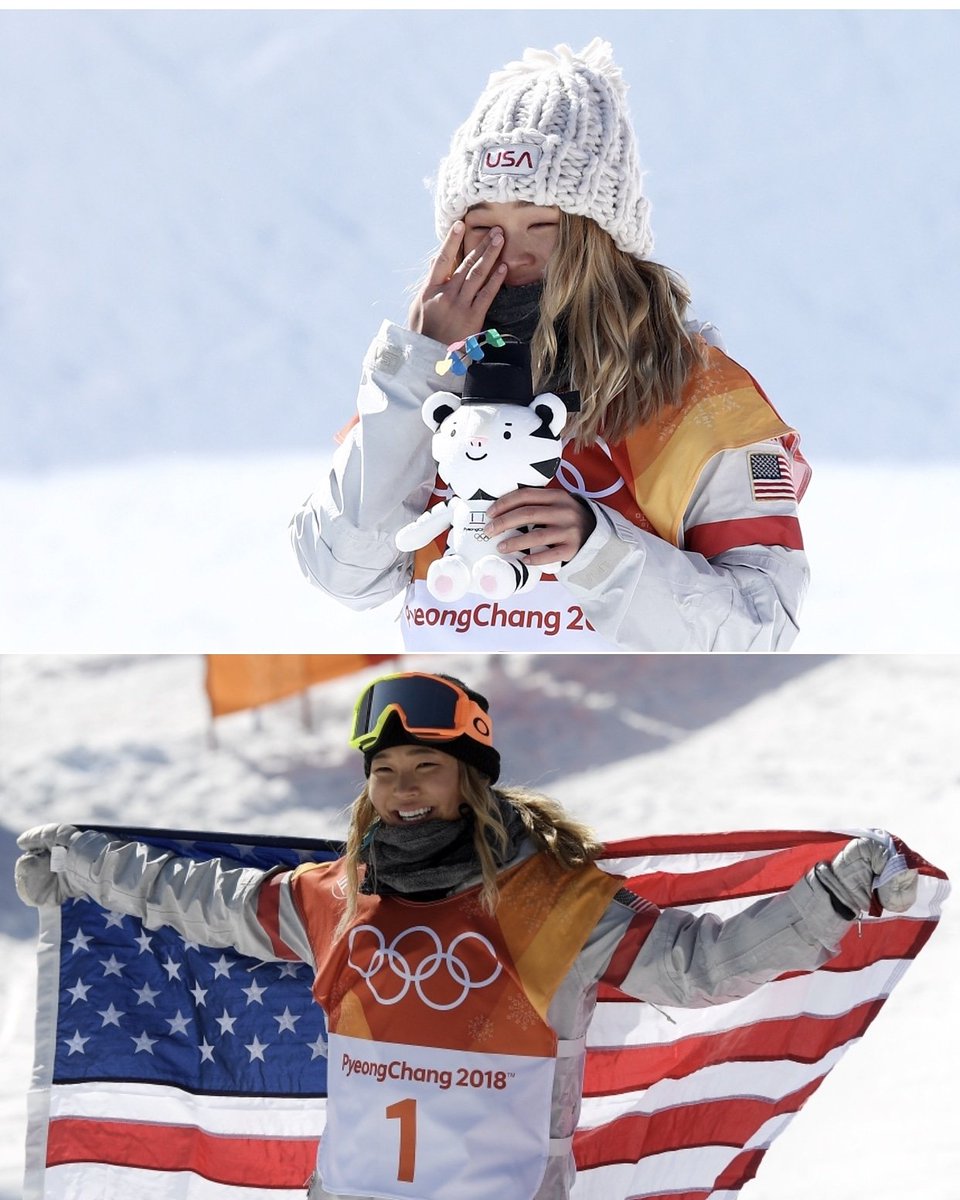 Chloe Kim has a ritual of knocking on her snowboard before starting a run.
'You know how when you jinx yourself, they're like, "Knock on wood". My snowboard's wood, so in case I jinxed myself sometime in the past, I just knock on my board. It just makes me feel a lot more comfortable.'
She added: 'I don't snowboard to win everything. I do it because I love it. I do it because I have fun, and everyone else can think whatever they want. For me, it's all about fun and I enjoy it so much.'
Looks like the FUN for Chloe Kim will now turn into CASH, as the sponsors reach out to her on Twitter. Look for Chloe Kim in some ice cream ads and more in the upcoming year.
Chloe Kim….the female 'Tony Hawk' of snowboarding! ….great title for a new video game too!
#ChloeKimSnow