Neil Diamond Ends His Tour Abruptly Due to Shocking Diagnosis
American singer and songwriter, Neil Diamond has had more than 38 top Ten hits and has sold more than 130 million albums worldwide. But the legendary 'Solitary Man' just announced he is retiring after a surprising diagnosis of Parkinsons Disease. 
Neil Diamond is just shy of his 77th birthday. He made his announcement on his website and shocked fans around the world, as many were scheduled to see him on tour in the upcoming months in New Zealand and Australia.
Diamond announced he was recently diagnosed with Parkinson's disease and would have to retire from touring and cancel all scheduled performances.
"It is with great reluctance and disappointment that I announce my retirement from concert touring," Diamond wrote in his statement. "My sincerest apologies to everyone who purchased tickets and were planning to come to the upcoming shows. I plan to remain active in writing, recording and other projects for a long time to come."
He concluded, "My thanks goes out to my loyal fans and devoted audiences around the world. You will always have my appreciation for your support and encouragement. This ride has been 'so good, so good, so good' thanks to you."
Neil Diamond just completed his 50th Anniversary tour in October in the U.S. and Europe and was scheduled to move on to New Zealand and Australia.
Paul Dainty, the president and CEO of TEG Dainty, the company promoting the tour, issued a statement regarding the tour's cancelation.
"I am devastated and saddened to hear the news of Neil's illness and his retirement from touring," Dainty wrote. "I have had the honor of promoting Neil's numerous tours in Australia and New Zealand, he is one of the world's greatest artists and we and his thousands and thousands of fans here will miss seeing him tour down under."
Readers and fans shared their thoughts on the surprising news on the LittleThings Facebook page.
"Thank you Neil for sooooooo many Great songs," one reader commented. "Got to see you many times last one was this past May in New Orleans and as always you were great. My boys grew up listing to you and for many years our Grandson thought our car only played your music. Thank You for all the good times."
 "Keep on battling, I'm sure you have some more great songs inside of you," another user wrote. "Love your music, lucky enough to see you several times. My sons really enjoy your music too. be strong x."
"We were so lucky to get tickets to see him perform in Montreal, about 5 years ago," another fan added. "Fabulous show, it was like having him in your living room to perform a private show, the stories, the songs, the voice, the music, timeless."
In addition to many fans on Facebook, celebrity tribures immediately started to flood in.
Micky Dolenz of the Monkees offered his well wishes to the man who penned "I'm a Believer," the song that launched the TV band to superstardom in 1966. "Needless to say, I am dismayed at the news that one of the greatest songwriter/performers of my generation is having to curtail his activities due to illness," he told PEOPLE in a statement. "Through his music, Neil brought untold joy to countless fans and to the world in general. I wish you all the best, Neil, and a remain a 'Believer' in everything you do."
Neil Diamond was also honored by fellow songwriting icon Neil Sedaka, a friend from their days together in New York City's famed Brill Building hit factory in the early Sixties.
For all the joy @NeilDiamond has brought to the world, I know it will come back to him ten fold. Sending all my love to him and his family. #NeilDiamond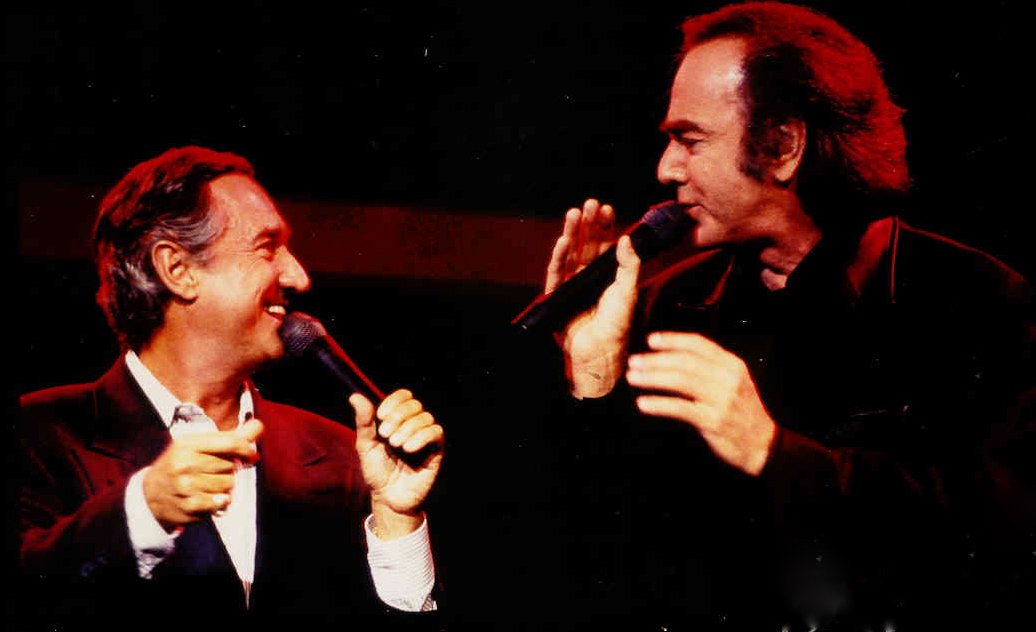 Barry Manilow
#Neil Diamond So,so sorry to hear about the great Neil Diamond's illness. I'm rooting for you Neil! Fight on from another Brooklyn boy!
The brilliant Beach Boys maestro Brian Wilson has since spoken out, as did his daughter, Carnie, of Wilson Phillips fame.
I'm sorry to hear about Neil Diamond's Parkinsons diagnosis. Neil, I wish you all the best, buddy.
I just wanted to say to you @NeilDiamond Thank you for these years of touring and your timeless beautiful music that has brought happiness to the world. Take care and know that we all love you so much! Your heart light shines wherever u go!!

Most definitely…the 'Solitary Man' with his 'Beautiful Noise' will be 'Forever in Blue Jeans' and missed by many, many thousands of fans worldwide. 'Holly Holy' …'I am. I said.'….We will remember…'Hands. Touching hands. Reaching out…touching me…..touching you!'
Our prayers are with Neil Diamond and his family. Let us know your thoughts on the news in the comments.
Resources: Opposing Views, People