Costco Manager Shows Just How Ridiculous New Seattle Sugar Tax Is
The problem with liberals is they never think they have a spending problem. They believe there's always a taxing problem. So they keep raising taxes or adding taxes, because the obvious – cutting spending – is just too ridiculous for them to support.
When it comes to liberal mayors, Seattle's mayor is no different from other liberal mayors like New York or Chicago when it comes to taxes on sugar drinks.
Seattle's Democrat Mayor Ed Murray hasn't had a particularly good 2017. Murray did what any good Democrat would do to get some favorable press: He decided to tax diet soda because white people drink it.
According to KING-TV, a Seattle ordinance placed a 1.75 cent an ounce tax on sugary drinks in order to encourage "healthy eating."
That tax applies to all soda and energy drinks as well as sports drinks and juices.
The Seattle Times reported that this "healthy eating initiative" is expected to bring in $15 million a year for the city.
But not a lot of the money is actually slotted to go for eating. According to the Times, about $400,000 is set to go for vouchers to a city food program to encourage locally grown produce called Fresh Bucks, while about $1.5 million is expected to go to adminsitrative costs to handle the Fresh Bucks program.
Another $6 million is set to go to various education and mentoring programs (liberals love spending money on education and mentoring programs). The city is planning to spend $500,000 to help workers who lose their jobs because of the tax, cruel irony. In even crueler irony, it's spending $1 million to administer the tax.
It's the kind of idea that could only make a liberal happy.
In the meantime, customers are already noticing the steep increase in soda prices and they're not happy about it — at all.
CBS News Digital Content Manager Tim Williams posted pictures on Twitter to show the gravity of the situation.
Take a look. You can see that the tax has nearly doubled the price of a 12 pack of soda.
ARE YOU KIDDING?!?! Check out these prices at Costco now that the Soda and #SugarTax has taken affect in the Seattle area. 1.75 cents per fluid ounce. Pics @DevinSenaUI & @HaydenBedsole
In the case of the Gatorade bottles, the Costco price is $15.99 while the tax is a whopping $10.34.
But here's the really beautiful response.
At one Costco location in Seattle, the manager actually made a sign to remind customers that the sugary drink tax does not apply to stores outside the city.
In other words, a business located in the city of Seattle is directing customers to shop outside of the city of Seattle in order to deprive the city of Seattle tax money. Check it out here:
Holy sugary drink tax! Finally saw this w/ my own eyes. $10.34 of tax on a pack of Gatorade @Costco in #Seattle. 

Costco also reminding you hey – no tax on this outside the city. Thoughts?? @KIRO7Seattle
Does anyone think customers aren't going to get the idea pretty quick? And take their shopping outside city limits when they can?
All considered, this new tax appears to be a ploy by the city to increase revenue while pocketing money from city residents. And considering just how high the tax is, it's a good bet that many, many Seattle shoppers will take their business — and their tax remittances — elsewhere.
How do I know? The same exact thing happened in Chicago.
It was one of the shortest-lived taxes in the history of Illinois. On October 11th lawmakers of Cook County, which includes Chicago, overwhelmingly voted to repeal the county's soda tax.
It had come into effect on August 2nd, after a delay thanks to a lawsuit by the Illinois Retail Merchants Association, and was ceased to exist on December 1st.  From the very start the one-cent-per-ounce levy on sweetened soft drinks was massively unpopular: policymakers claimed it was introduced to protect public health but its main purpose was to plug a $1.8 billion hole in the budget.
The repeal is a big victory for the vigorous lobbies of makers of fizzy drinks. It was a setback for Toni Preckwinkle, the president of Cook County Board, and Mike Bloomberg, the former mayor of New York, who, as mayor, unsuccessfully tried to introduce the tax in America's biggest city, and then poured millions of dollars into the campaign for its introduction in the third-largest city.
William Dermody of the American Beverage Association, a lobby group, was jubilant claiming the repeal of the tax showed that "beverage taxes are really a money grab that has nothing to do with public health". Ms. Preckwinkle tried to put a brave face on her defeat. "It is up to the commissioners to choose our direction on revenue, and I respect their authority to do so," she said in a statement on October 11th.
Yet the tax had a bad start. An early version, aimed at distributors, had to be revised because it was subject to an additional sales tax, which is illegal in Illinois. The county then proposed to make the tax a line item at the point of sale. But local governments are not allowed to tax purchases paid with food stamps, which meant more than 870,000 people were exempt from the tax. Moreover, the tax was levied on diet drinks, which do not make people fat, but not on fruit juices that are packed with sugar.
When it finally went into effect the levy was met with obstinate public opposition. According to the "Can The Tax" group, a lobby, 90% of Cook county residents were opposed to the tax. Some drove to nearby Indiana to stock up on the fizzy stuff. Local radio was abuzz with complaints. Local lawmakers were flooded with calls to get rid of the tax. And it did not raise as much revenue as forecast because some restaurants retailers sold almost 50% fewer fizzy drinks.
The levy's defeat in Cook County does not augur well for similar efforts in other parts of America. Boulder in Colorado, four cities in California (San Francisco, Oakland, Albany and Berkeley) Philadelphia, along with Seattle have managed to introduce a tax on soft drinks.
West Virginia and Michigan rejected a state-wide introduction of such a levy.
Asked whether Philadelphia will face a similar repeal of its soda tax, Jim Kenney, the city's mayor, pointed out on October 12th that the big difference between his city's and Chicago's tax was that Philly's proceeds went directly into an educational fund paying for pre-kindergarten and community schools. Any attempt to repeal it would meet with fierce resistance from families, said Mr Kenney, adding that the tax would help his city even more if the American Beverage Association did not try to scupper it with a lawsuit that is on its way to the state's supreme court.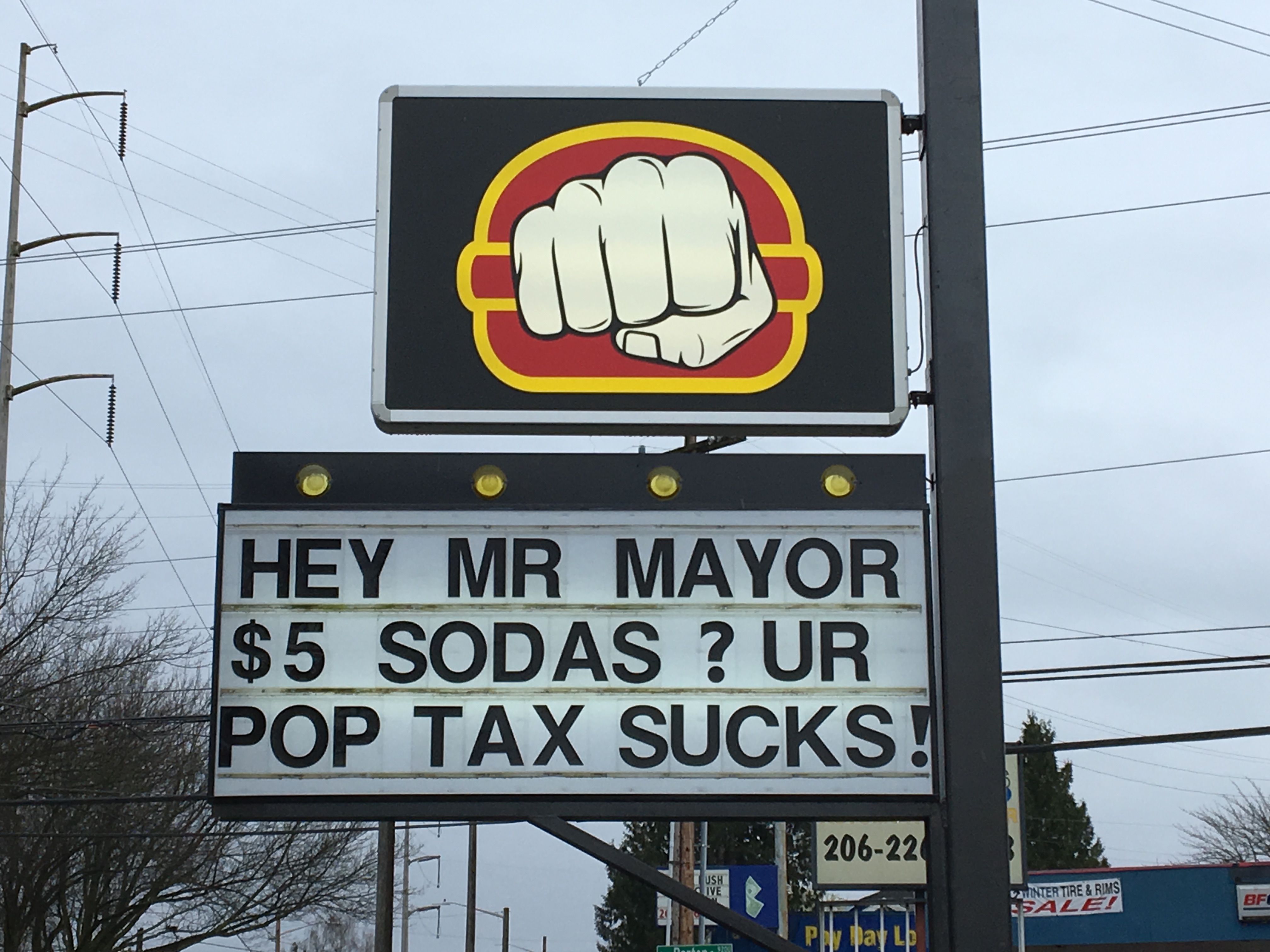 Resource: Conservative Tribune