Trump's 1st Move After Returning to US: Tell Off CNN in Front of Entire Country
Recently President Trump returned home after a two-week tour of Asia. He spent much of his time in Asia working to smooth over relationships with our partners of trade and letting them know there's a new sheriff in town. It's time for America to be treated fairly when it comes to trade! It's also time to 'Make America Great Again'.
Upon his return from his trip to Asia, President Donald Trump wasted no time doing what might be one of his favorite things to do — calling out CNN in front of the whole country.
On Twitter, the president wrote that while he was in the Philippines, he watched CNN, and realized just how fake the news outlet was.
"While in the Philippines I was forced to watch @CNN, which I have not done in months, and again realized how bad, and FAKE, it is. Loser!" he wrote.
While in the Philippines I was forced to watch @CNN, which I have not done in months, and again realized how bad, and FAKE, it is. Loser!
CNN is at the top of the president's list when it comes to outlets that push fake news on the public.
The president urged his followers to tune into "Fox & Friends" for coverage of his Asian trip, which he declared a success.
.@foxandfriends will be showing much of our successful trip to Asia, and the friendships & benefits that will endure for years to come!
With some of the stories CNN has been running lately, there's no question why the president called the network a "loser. "From "Trump's face found in a dog's ear" and and "Donald Trump says something that isn't true 5.5 times a day. Every day," it is a wonder that anyone can bear watching the Clinton News Network.
Which is why Trump isn't afraid to call out CNN for their "fake news."
The president has been pointing out the network's fake tendencies since before the election and he is showing no signs of letting up.
Who could forget the meme Trump posted in July of him "beating up" the news outlet?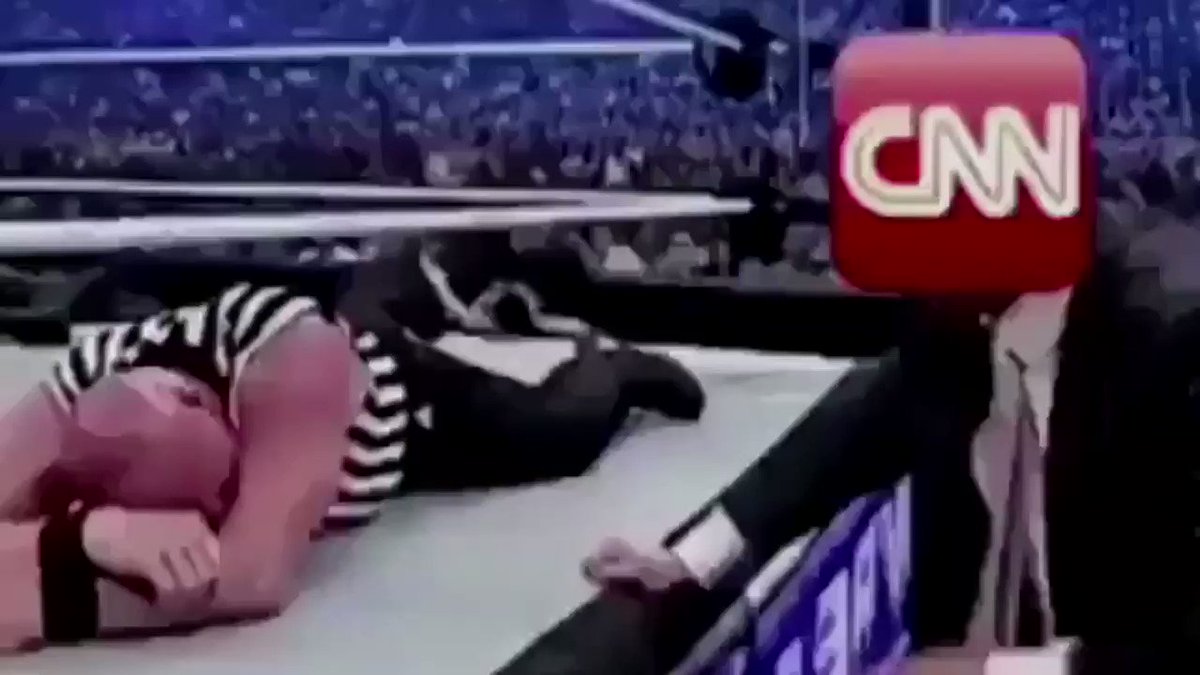 Trump must love to bash CNN about as much as we like to see him do it.
Trump returned home recently after a successful trip in Asia where he negotiated billions in trade for American businesses.
President Trump said goodbye to Asia on Tuesday after visiting five countries, attending three international summits and meeting with more than half-a-dozen foreign leaders.
"I think we made a lot of progress just in terms of relationship," Trump told reporters as Air Force One left Manila. "We actually sold $300 billion worth of equipment and other things and I think that number is going to be quadrupled very quickly."
"It's also been really good in terms of North Korea, getting everybody together," the president added. "China has been excellent. Japan and South Korea have been excellent. I think that's a very important part of the trip."
Trump spent 12 days in Asia — the longest overseas trip by an American leader in 25 years. Japan, South Korea and China staged increasingly elaborate welcome ceremonies, competing to win favor from the U.S. president, who has a showman's eye for spectacle.
"It was red carpet like nobody, I think, has probably ever received," Trump said. "And that really is a sign of respect, perhaps for me a little bit, but really for our country."
Trump extended his trip by one day in order to attend a summit of East Asian leaders in the Philippines. He'd originally planned to skip the gathering, which analysts warned could have sent a worrisome signal to allies and adversaries already questioning the U.S. commitment to the region.
Trump says he still wants to be a player in Asia, despite his decision to withdraw from a 12-nation trade pact negotiated under former President Barack Obama.
"I am here to offer a renewed partnership with America," Trump told a summit meeting in Vietnam over the weekend, "to work together to strengthen the bonds of friendship and commerce between all of the nations of the Indo-Pacific, and together, to promote our prosperity and security."
Security dominated the first half of the trip, as Trump huddled with leaders in Japan, South Korea and China over how to deal with the nuclear threat posed by North Korea. In Tokyo and Seoul, Trump urged counterparts to buy more military hardware from the United States.
"After my tour of Asia, all countries dealing with us on trade know that the rules have changed," Trump tweeted.
President Trump is all about 'The Art of the Deal'.
Nice to have the President back in America, and back to calling CNN what it really is…FAKE news!