You won't see too many if any stories about heroes or their actions from the Las Vegas mass shooting. The liberal MSM just won't publish them. You might see a few of those stories on Fox News, but for the most part stories about heroes that night just won't be published.
According to the U.K. Daily Mail, Cobos allegedly shielded the woman with his body "from the barrage of bullets tearing through the air around them," going so far as to covering her eyes from witnessing the chaos.
Getty photographer David Becker took the photo, which has since gone viral as news of the attack — and news of heroic deeds that were performed during it — spread.
Becker revealed that after the photo had been taken, Cobos and the woman stood up and he brought her to safety. Cobos then ran back to the dangerous scene in order to help others.
Witnesses told the Daily Mail that Cobos "used his belt as a tourniquet to stop people bleeding and even put his finger in bullet holes of some who had been shot."
Family and friends have recently revealed that Cobos told them he could see "bullets ricocheting off the ground in front of him as he ran."
But this act of heroism isn't a surprise for friend and fellow service-member Jason Maddy, who happened to be out of the country at the time of the attack.
"Just found out because I'm in Puerto Rico, but this is one of my very own former Soldiers from White Platoon, B TRP 2-14 CAV from Hawaii," Maddy wrote in a post about Cobos.
"Extremely proud of you brother!! True Hero!!!!!" he added.
A friend shared the photo and wrote on Facebook, "Being a veteran is something not a lot of people can say. We don't do it because it's cool or because we seek credibility from others; but because not many people are willing to do what it takes. It takes a special and crazy person to smile in the face of adversity. I could not be more proud of fellow Veteran and a guy I've had the pleasure of being in a platoon with the entire duration of my military career. Matthew Cobos you're the epitome of what it means to uphold the Army Values."
In the aftermath of the tragedy, Cobos was said to be safe and staying in California with family. Cobos lives in Hawaii, however, where he is a cavalry scout in the Army whose job is to act as the "eyes and ears of the commander during battle."
News of his courage has become worldwide, with more people praising his heroism as they learn of his identity.
Beautiful, Heartwarming Story of Hero Soldier Protecting Woman

Thank you, #MatthewCobos#RedNationRisinghttp://www.dailymail.co.uk/news/article-4949828/Mystery-man-protected-woman-young-Army-soldier.html …
His name is #MatthewCobos words cannot thank this man enough for his love & bravery  wow melts my heart knowing he did that 4 a stranger 

#MatthewCobos True Hero  what an amazing man
The Army called Cobos the "epitome of the American soldier" in a tweet.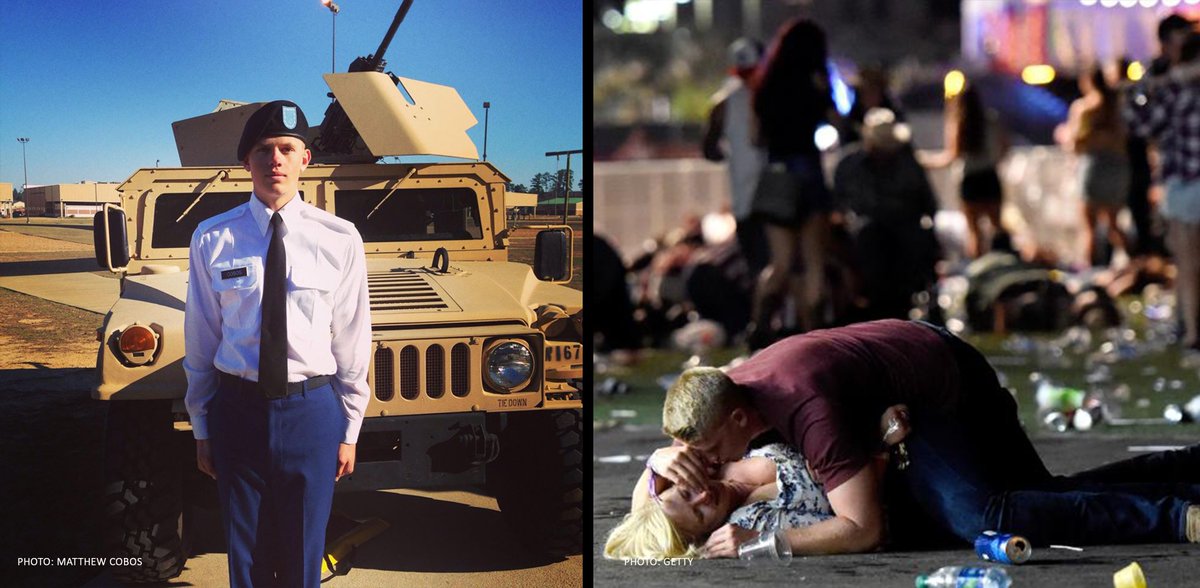 "You, my friend, are a true hero. I could not get the picture of you and her out of my mind. It was like my heart needed to know you two were ok. Thank you for your service that night, and every day. ❤️ This world needs more people like you," another said.
To the many overpaid NFL players who still don't get why we stand during the national anthem…THIS is why!
This comment captured how Cobos has come to help symbolize the many heroes from that horrible night:
"Seeing that photo brought out a pride in me I had lost for my own country the USA.. There are no words to describe how I felt when I saw that image of you fearlessly protecting that woman.. I also heard you ran back and helped others.. I mean… your the modern day hero.. and I thought America was done making those kind of men…"
To Cobos and others who serve to protect our country against foreign and domestic terrorism,….God Bless our military!
Those that serve our country in our military on the real battlefields are the real heros in America, not those that play on a field on Sunday, Monday or Thursday night and kneel during the national anthem. You can bet Cobos stands tall and proud for the national anthem.
God Bless America!
Sign up to get alerts from Joe!