President Trump Granted Sick Girl's Wish During Packed Middle East Trip; MSM Completely Ignores!
President Trump just completed his first trip to the Middle East and it was packed! He went to Israel, Saudi Arabia, Vatican City, Brussels, a Nato summit, and followed that up with a G-7 meeting in Sicily. But there's one visit you probably missed in the MSM.
Despite President Trump's packed schedule on his 27-hour trip to Israel, he took time out of his busy schedule to visit a 14-year-old girl who was battling cancer. Oh, say what? You didn't hear about it? Oh, that must be because the MSM pretty much blacked it out! I mean they can't have you thinking that President Trump is actually compassionate and cares about people, especially young girls with cancer.
H/T Constitution.com:
During his short stay in Israel, President Trump slipped away from the political table long enough to meet with little Emilee Imbar. Emilee is 14-years old and has been battling cancer for the last seven years. Her dream was to meet and speak with the President of the United States, and so the folks at Rachashei Lev, Israel's national support center for pediatric cancer patients, did their best to set the meeting up. With the help of one of their supporters, Prime Minister Benjamin Netanyahu, they were able to facilitate an opportunity for Emilee to meet with President Trump.
Despite his incredibly hectic schedule and many meetings, the President was happy to meet with Emilee to talk about life as the President of the United States,
President Trump chatted with Emilee, asking about her health and wellbeing, and relating to her a little bit about the immense responsibilities of being a President of the United States. Emilee blessed and thanked President Trump, and presented him with a letter she wrote expressing her desire to meet him again – this time in the White House, where she hoped to do business with him, and maybe even to bring peace to the world. President Trump was visibly moved by Emilee and wished her good health and a speedy recovery. It was a momentous day for all.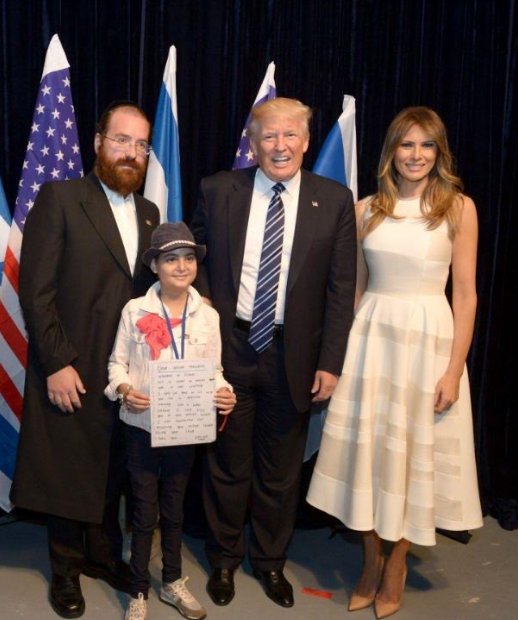 Major MSM blackout of Trump in Israel visiting Emilee Imbar, a 14-year-old girl battling cancer, who always dreamed of meeting him.
Emilee also gave the President a card she made for him which said that she hoped to meet with him again one day, in the White House.
The card read:
Interesting enough, this wasn't the first time, Trump has been there for an ill child. Nearly thirty years ago he came to the rescue of a desperate family in need.
But commercial airlines declined to fly Andrew, who couldn't leave home without several pieces of medical equipment including a portable oxygen tank and suction machine, according to an archived Jewish Telegraphic Agency story.
Desperate for help, the family called on Trump, who agreed to provide his private Boeing 727. Once the plane landed in LaGuardia, Andrew was whisked to the Schneider Children's Hospital of Long Island Jewish Medical Center. –TimesOfIsrael
Trump wasn't pandering for votes, mind you – and though the MSM would never tell you, he's known for random acts of kindness – from paying off a good Samaritan's mortgage, to sending $10k to a bus driver who talked a woman out of suicide, to taking care of Jennifer Hudson right after her family was murdered, to saving a Georgia farm from foreclosure in 1986, to stopping a mugger actively beating a guy with a bat. He also helped a lost child find the lobby of the Plaza hotel.
Over the years, the President has also given nearly a half million dollars through his foundation to the Dana-Farber Cancer Institute and Operation Smile – which offers free surgeries to children in developing countries born with cleft palates. –Forbes
Yet, the MSM failed to cover Trump's recent visit with cancer patient Emilee Imbar. 
UNBELIEVABLE! The media was silent! It was a like a blackout on the story!
Tthe MSM doesn't want the public to know that Trump is often known for random acts of kindness, both past and present. The MSM wants you to believe their narrative, that President Trump is a rude and ruthless character. They don't want you to see or hear anything otherwise and they will do what they can to make sure of it.
The MSM is anti-Trump. Why would they ever do a positive story of Trump? Why would they want the public to know that President Trump took time out of his very packed schedule to meet with a little girl who was battling cancer who 'dreamed of meeting the President of the United States of America'? That might make him look human, and they can't have THAT can they?