On Monday, on Twitter, the President's 33-year-old son, Eric Trump announced he and his wife are expecting their first child, a new baby boy. Evidently he found out the exciting news on his birthday too! His wife, Lara and him are both ecstastic as is the entire Trump family.  Most Americans seem to be very happy for the Trump's new addition.
However, there was one particular liberal who was not happy. That was liberal comedian Chelsea Handler. It seems not only does Chelsea not have a grasp for the English language, but she likes to insult the Trumps in general. This is not the first time she has insulted a Trump family member and I'm guessing it won't be the last either.
H/T I Have The Truth:
Liberal comedian Chelsea Handler stooped to a new low on Monday – even for her.
After Eric and Lara Trump announced they are expecting their first child, Handler tweeted, "I guess one of [Donald Trump's] sons is expecting a new baby. Just what we need. Another person with those jeans. Let's hope for a girl."
However, no sooner had she taken to mocking the unborn child of someone who has never so much as looked at her the wrong way, than she was hilariously put in her place by Eric's older brother, Donald Trump Jr.
Here's the responses on Twitter:
.@LaraLeaTrump & I are excited to announce that we are adding a boy to #TeamTrump in September. It's been an amazing year. We are blessed!
I guess one of @realDonaldTrump's sons is expecting a new baby. Just what we need. Another person with those jeans. Let's hope for a girl.
Jeans??? I guess I'm not at all surprised… but really?!?! #genes
Eric then corrected Handler's typo. "Genes' #ItIsABoy," he responded.
Eric Trump Retweeted Chelsea Handler
"Genes" #ItIsaBoy
 The comedian later apologized for the typo, but not the message: "Sorry about spelling mistake. I meant "genes," not "jeans." I'm a little stoned. What's your excuse?" she wrote.
Mr. Trump Jr. posted a longer response to Ms. Handler later Monday evening.
My response to @ChelseaHandler and her sick tweet targeted at our family. So much for the "tolerant left!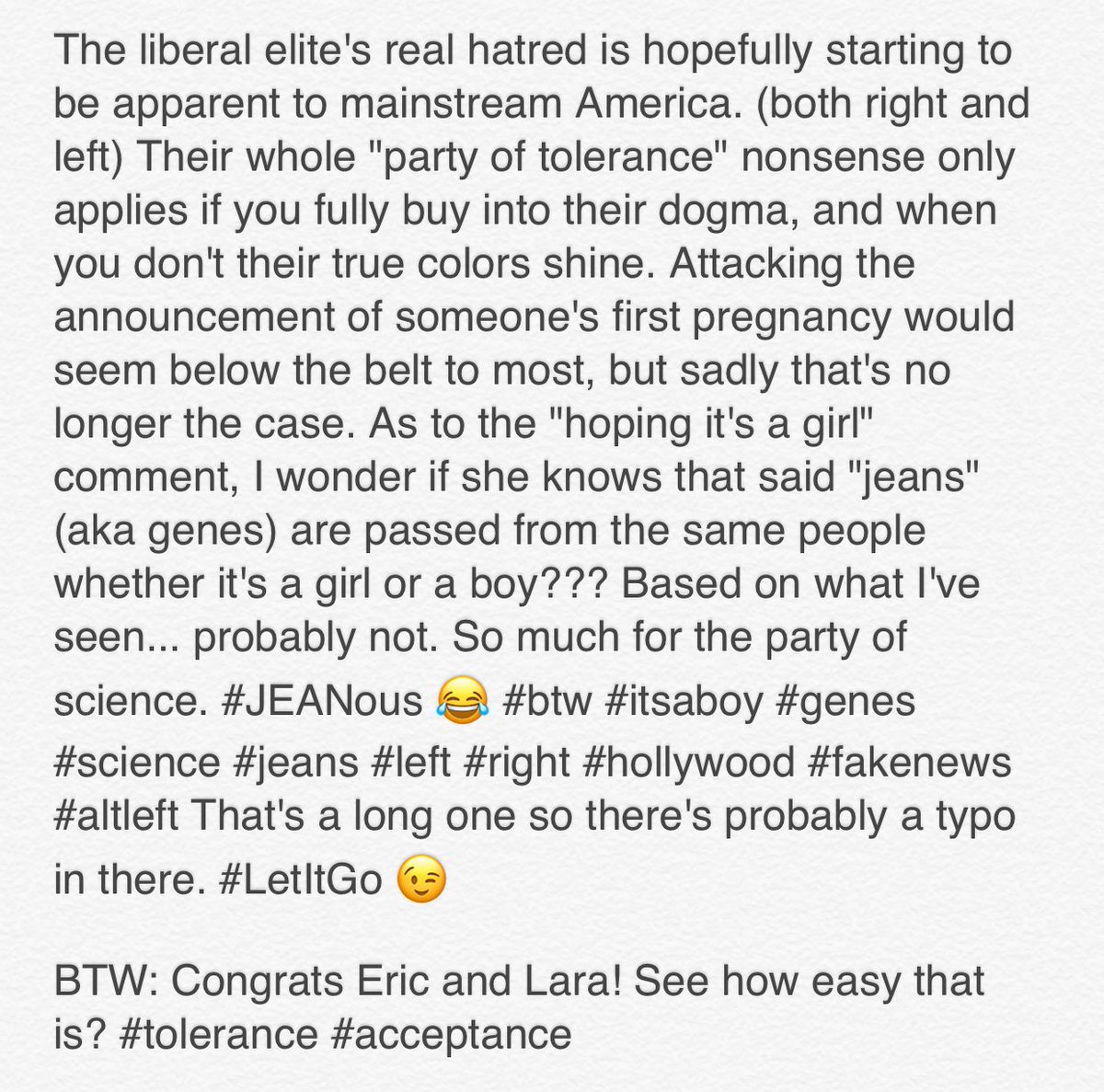 Chelsea Handler has no class. She not only mocked the First Lady Melania, but now Eric and Lara, and their son who's not even been born yet. Chelsea seems to be not only cruel, but elementary. Maybe she should just keep playing in her safe space with her crayons and Play Doh, if she can't play nicely with others.
On a more important note….I'd like to wish Eric and Lara congratulations on the news of their new baby!  
I'm sure the rest of the Trump family is very excited. I am also sure Grandpa Trump, our President, is looking forward to welcoming his 9th grandchild. Here's Donald Trump's response on Twitter:
#MAGA
Sign up to get alerts from Joe!