When First Lady Michelle Obama took her position after her husband won the presidency in 2008 she chose issues to bring awareness to that were important to her. As have all the other First Ladies before her, her primary issue was combatting childhood obesity. However, some of her programs did not appear to work as well as people thought they would.
After her healthy lunch bill passed through the House of Representatives and became legislation, students began posting comments to social media attached to pictures. They highlighted how unfulfilling and non-appetizing her meals were.  Here's a couple of posts from Twitter:
All we get for lunch today. Thank you Michelle Obama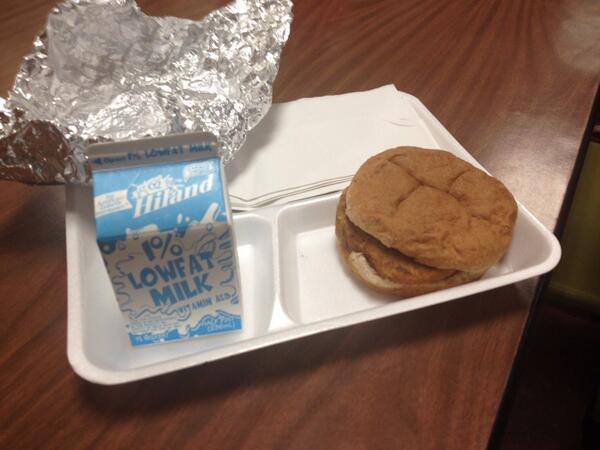 @MichelleObama so this is the "healthy school lunch"… pic.twitter.com/qgxL5ez9zh

— Tyler Clements (@TylerClements6) April 3, 2014
But one school in Pennsylvania has already taken matters into their own hands in rolling back these ridiculous food regulations. The school is Penn-Trafford High School located in Harrison City, Pennsylvania. There, students were forced to wait in lines that were longer for fewer food choices. The food program was losing money.
School administrators decided this year to pull the high school from the National School Lunch Program. Many students were found throwing out the fruits and vegetables that were provided with the meals that were required as part of the program because they had fewer calories.
18 year old Brianna Lander who is a senior told TribLive the following,
"The trash cans were always full, sometimes overflowing. You don't see that now. People would go up to the snack line and get random junk food, where now you can get an actual meal and eat it."
They remade the cafeteria to include a deli, pizza, a la carte, and panini station. Chase Zavarella who is a junior said,
"You get to choose what you want instead of being sort of funneled in and only having one choice. I think everyone is happier with the new selection."
The school's district Business Manager, Brett Lago, also commented on the changes saying,
"Plus kids at that age, they're a little more informed and better at making smart choices for themselves because we still have a lot of healthy options. But as far as meal guidelines, you can't say that a 300-pound football player and a 90-pound cheerleader have the same [dietary]needs on a daily basis. We've lost, to date, about $40,000 worth of reimbursement, but our sales are up about $50,000 over last year."
He noted that now that the school has released itself from the National School Lunch Program they have actually seen an increase in food participation that has gone from 25 to 45 percent. While also providing free lunches to people who qualified under the program.
While liberals want to make it seem like Republicans only care about rolling everything back that the Obamas worked on, in reality, it is simply about doing what is economically efficient. In the long run, it served no higher moral purpose either because it was not being effectuated correctly.
Sign up to get alerts from Joe!