We went to see "Concussion" last night and it'll give you a whole new look at the world of high impact football.  With the bowl games and the Super Bowl coming up I thought it would be good to focus on some old guys who managed to survive the pounding in the NFL.
10. Warren Moon (44)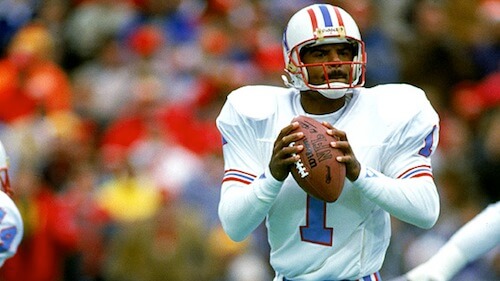 Warren Moon, a California-born 218-pound quarterback, is considered one of the most prolific passers in the history of professional football. When he wasn't drafted after college, Moon was undeterred and decided to join the Canadian Football League (CFL). There, he helped the Edmonton Eskimos to five back-to-back Grey Cup Victories. In 1983, Moon won the Most Outstanding Player Award in his sixth and final season in the CFL. From there, Moon joined the Houston Oilers and launched his NFL career.
He became an incredibly successful NFL quarterback, and was named Offensive Player of the Year in 1990. At the time of his retirement, Moon was one of the NFL's top five players for passing yards. He was inducted into the CFL Hall of Fame in 2001, as well as the Pro Football League Hall of Fame in 2006. He announced his retirement in January 2001 at the age of 44 and now works as a broadcaster for the Seattle Seahawks.
Sign up to get alerts from Joe!