Where Are All the Real Men? Here's One: CNN Newsbabe's Life Saved by Second Amendment
With all the pussified excuses for males running around this country, I'm stone-cold relieved, proud and fired-up to read about a real man who would rather have holes blown in him than let some scumbag hurt his woman.
Listen up you all you feminized losers and learn how it's done:
I'm not the only one who thought Lynne Russell was the hottest, smartest, most interesting, talented and sexy newschick on the planet back when she became the first woman to to ever solo-anchor a primetime network news show.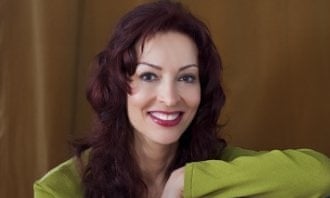 She was on CNN and I don't know where she went, but I do know she found herself a real man, which is exactly what she deserves.
His name is Chuck de Caro – a 65-year-old former special forces officer who took care of business when he and his wife – Lynne Russell – were attacked by an armed robber in a hotel room.
While on a cross-country road trip from Washington, DC, to California – down old Route 66 (getting their kicks, I presume!) – the couple stopped at a Motel 6 for the night in Albuquerque (god I LOVE that!!) – when an intruder slipped into their room as Russell went to grab something from the car. When she opened the door – there was the cretin with a gun pointing at her and husband de Caro in the shower, unaware at least for the moment.
The gunman pushed Russell down on the bed, with the intent to assault and rob her… THEN THIS HAPPENED!!!!
According to the NY Post:
De Caro, who was in the shower, emerged completely naked and tried talking to the gunman, who was demanding the couple fork over their money and valuables. De Caro stood in front of a nightstand, where they had placed their legal, .35-caliber handguns. When the thug grabbed a briefcase and began firing at him, De Caro shot back as Russell ducked behind a piece of furniture.

"It was a gun battle, and Chuck was bleeding heavily, but he didn't stop firing because the man was firing on him, and he was looking for me," Russell said.

De Caro was shot twice in the abdomen and once in the leg — but managed to kill the gunman with his return fire. The intruder fled the motel room and collapsed in the parking lot, where cops later found him. De Caro, who now works as a national security strategist, was "bleeding profusely" just after the shootout, Russell said.  He was rushed to University of New Mexico Hospital, where he underwent surgery and will continue recuperating for several days.
And here's the important part, you slithery little whiny, sackless, girly, hipster, spineless, Kathy Griffin loving weenies with your stupid hats and gutless politics: Memorize this.
Chuck De Caro said very little about the incident, except this – and I quote: "I was determined to save my dream girl's life — even if it cost my own. There was no way he was going to harm my wife."
Still hot. Knows a real man when she sees one. You're in good hands, the both of you!
So there you have it. Protect your family, your wife and join the NRA every one of you – you may need it some day.
Here's the ironic part: I bet CNN doesn't even cover this because it involves a legal gun owner protecting his loved one.
Doesn't really fit their narrative does it?
Sack up you American males and understand what a real woman and a real man are. Or just sit around complaining while the real men do all the work. Whatever.
PS: "The police had to keep me from going over to that man's body and kicking the s–t out of him," Russell added.
Yeah, baby…