Survivor in a Nazi Concentration Camp: CZECH Reality Show So Offensive Even Americans Shy Away
A new reality show in the Czech Republic has let a family of seven experience what it was like living under Nazi occupation during World War II. Yes, it's "Survivor" in a Concentration Camp.
So repulsive it sounds like a sick joke. Don't worry, American TV will find a way to create a version of this if it's a hit. "Big Brother in Dachau" ?
From the Associated Press:
The Czech public broadcaster said the family members, chosen from 400 applicants, were brought back in time to March 15, 1939 – the day Hitler's troops took over the country.

They were taken to a farm in the mountains in eastern Czech Republic, where they were filmed as they were forced to confront everyday realities of the occupation, such as hunger, persecution and Gestapo raids.

The goal was to show what common people had to get through at the time and historians and architects made sure their experience was as authentic as possible.

The show "A vacation in the Protectorate" opens Saturday.
We hope they bring the show to the US.  It will likely present a good picture of what life will be like in the ObamaReEducation Camps.  Remember, Obama's Secretary of Education is already proposing "public boarding schools" for children who aren't cared for according to the standards of the State.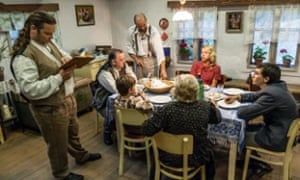 Recorded over two months in summer 2014 and shown on public broadcaster ČT (Česká Televize), the eight scheduled episodes of Holiday in the Protectorate – episode titles include "Rules of survival" and "With the Gestapo at my back" – are set in the majority Czech-ethnic protectorate of Bohemia and Moravia, areas of the present-day Czech Republic then ruled by a puppet government established by the Nazis.
"I spent a long time looking for a concept that would allow me to show life in another era while ensuring the highest level of authenticity," said the director, Zora Cejnkova.
The concept has stirred angry reactions far beyond the Czech Republic, even by the standards of a television genre rarely noted for its cultural sensitivity.
Around 360,000 Czechs and Slovaks died during the war.
---