If you want a real indication of how President Barack Obama's economy is fairing, just look to a recent report that shows a coming "retail apocalypse," with major retailers across the country planning on shutting the doors to thousands of stores due to a sharp decline in discretionary consumer spending.
Somehow I don't believe Barack Obama or any of his mouth pieces will be touting these stats – and as always, you'll only find it outside of the Major Media. The economy grew two-tenths of 1% last quarter and that is dismal. What – you haven't heard that either? Damn!
Friend me on Facebook – if you dare. No one turned away.
Now comes news of these major retailers closing dozens of stores over the next year – brand names like Radio Shack, Office Depot/Office Max, Dollar Tree/Family Dollar, Walgreens, Barnes & Noble, Macy's, Sears and JCPenney.
The country is facing what CNBC has labeled a tsunami of store closings and blogger Michael Snyder coined a "retail apocalypse."
The full list, which can be found below, contains names of powerhouse retailers that drive the consumer economy almost on their own. Most malls around the country sport a Sears store along with a Macy's or JCPenney and experts are advising not to be surprised to see the doors of many of those stores shuttered over the next year or so.
These big retailers closing their doors means thousands of lost jobs, if not more. That starts the economy on a wicked downturn that will require strong fiscal leadership in the White House.
"Expect to see more storefronts closed at malls across the country," one retail watcher told WND. "It's getting ugly out there."
So what else is the problem? For one, Americans are maxing out their credit cards far too early into the year and some of that can be blamed on higher health insurance costs(thanks, Obama) and rising taxes (thanks, Obama).
But here's where Obama is really in trouble: Teen-age girls and mall closings:
Green Street Advisors, a real estate and REIT analytics firm, predicts that about 15% of U.S. malls will fail or be converted into non-retail space within the next 10 years. That's an increase from less than two years ago, when the firm predicted 10% of malls would fail or be converted… Uh-oh.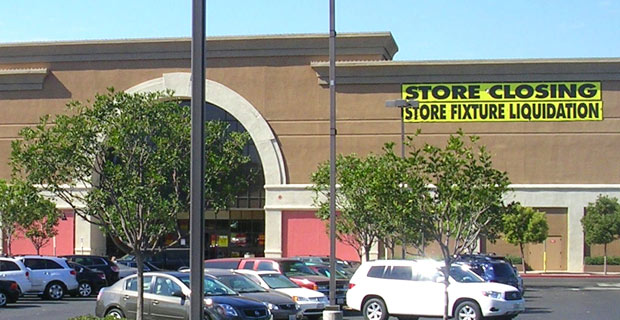 And sadly, this is just the beginning.  Retail experts are projecting that the pace of store closings will actually accelerate over the course of the next decade.
So as you read this list below, please take note that things will soon get even worse.
The following are 20 facts about the great U.S. retail apocalypse that will blow your mind…
#1 As you read this article, approximately a billion square feet of retail space is sitting vacant in the United States.
#2 Last week, Radio Shack announced that it was going to close more than a thousand stores.
#3 Last week, Staples announced that it was going to close 225 stores.
#4 Same-store sales at Office Depot have declined for 13 quarters in a row.
#5 J.C. Penney has been dying for years, and it recently announced plans to close 33 more stores.
#6 J.C. Penney lost 586 million dollars during the second quarter of 2013 alone.
#7 Sears has closed about 300 stores since 2010, and CNN is reporting that Sears is "expected to shutter another 500 Sears and Kmart locations soon".
#8 Overall, sales numbers have declined at Sears for 27 quarters in a row.
#9 Target has announced that it is going to eliminate 475 jobs and not fill 700 positions that are currently empty.
#10 It is being projected that Aéropostale will close about 175 stores over the next couple of years.
#11 Macy's has announced that it is going to be closing five stores and eliminating 2,500 jobs.
#12 The Children's Place has announced that it will be closing down 125 of its "weakest" stores by 2016.
#13 Best Buy recently shut down about 50 stores up in Canada.
#14 Video rental giant Blockbuster has completely shut down all of their stores.
#15 It is being projected that sales at U.S. supermarkets will decline by 1.7 percent this year even as the overall population continues to grow.
#16 McDonald's has reported that sales at established U.S. locations were down 3.3 percent in January.
#17 A home appliance chain known as "American TV" in the Midwest is going to be shutting down all 11 stores.
#18 Even Wal-Mart is struggling right now.  Just check out what one very prominent Wal-Mart executive recently admitted…
David Cheesewright, CEO of Walmart International was speaking at the same presentation, and he pointed out that Walmart would try to protect its market share in the US – where the company had just issued an earnings warning. But most of the growth would have to come from its units outside the US. I mean, via these share buybacks?

Alas, outside the US too, economies were limping along at best, and consumers were struggling and the operating environment was tough. "We're seeing economies under stress pretty much everywhere we operate," Cheesewright admitted.
#19 In a recent CNBC article entitled "Time to close Wal-Mart stores? Analysts think so", it was recommended that Wal-Mart should close approximately 100 "underperforming" supercenters in rural locations across America.
#20 Retail consultant Howard Davidowitz is projecting that up to half of all shopping malls in America may shut down within the next 15 to 20 years…
Within 15 to 20 years, retail consultant Howard Davidowitz expects as many as half of America's shopping malls to fail. He predicts that only upscale shopping centers with anchors like Saks Fifth Avenue and Neiman Marcus will survive.
So is there any hope that things will turn around?
Friend me on Facebook – if you dare. No one turned away.
Sign up to get alerts from Joe!