Hippie Who Founded 'Earth Day' Murders Girlfriend and Stuffs Her in Trunk: Then it Gets Weird.
The very first Earth Day took place at Fairmount Park in Philadelphia forty-five years ago and on the stage of that celebration was a young man named Ira Einhorn. Wow – bet he was a really considerate and concerned citizen of Mother Earth, right? … well, not so much it turns out.
By that day Einhorn had made a name for himself as Philadelphia's "head hippie" and claimed that he was a founder of Earth Day. No member of the Progressive movement has ever disputed that.
So who was Ira Einhorn? – from Katie Pavlich at Townhall:
A self-proclaimed environmental activist, Einhorn made a name for himself among ecological groups during the 1960s and '70s by taking on the role of a tie-dye-wearing ecological guru and Philadelphia's head hippie.

With his long beard and gap-toothed smile, Einhorn — who nicknamed himself "Unicorn" because his German-Jewish last name translates to "one horn"  —advocated flower power, peace and free love to his fellow students at the University of Pennsylvania. He also claimed to have helped found Earth Day.

But the charismatic spokesman who helped bring awareness to environmental issues and preached against the Vietnam War — and any violence — had a secret dark side.

When his girlfriend of five years, Helen "Holly" Maddux, moved to New York and broke up with him, Einhorn threatened that he would throw her left-behind personal belongings onto the street if she didn't come back to pick them up.
Maddux was found 18-months later stuffed into a trunk in Einhorn's closet. Einhorn was arrested and released on bail.
An interesting side note to this story is that the defense attorney who got Einhorn out on bail was none other than fellow hippie Arlen Spector – who no doubt knew what an incredible flight risk this cancerous sociopath was.
Sure enough, once out on bail Einhorn jumped bail, hit the road and spent decades hiding all over Europe. Twenty-three years later, Einhorn was exposed, arrested and extradited to the US. He stood trial for murder, was convicted, and is currently serving a life sentence.
He testified in his own behalf, claiming his ex-girlfriend was murdered by CIA agents who framed him for the crime because about the agency's paranormal military research.
Ladies and gentlemen, we give you the founder of Earth Day.
The people celebrating Earth Day today are frankly, no less nutty than Ira Einhorn. For example, there was a huge rally celebrating Earth Day on the National Mall in Washington.
Here's how the revelers left the mall.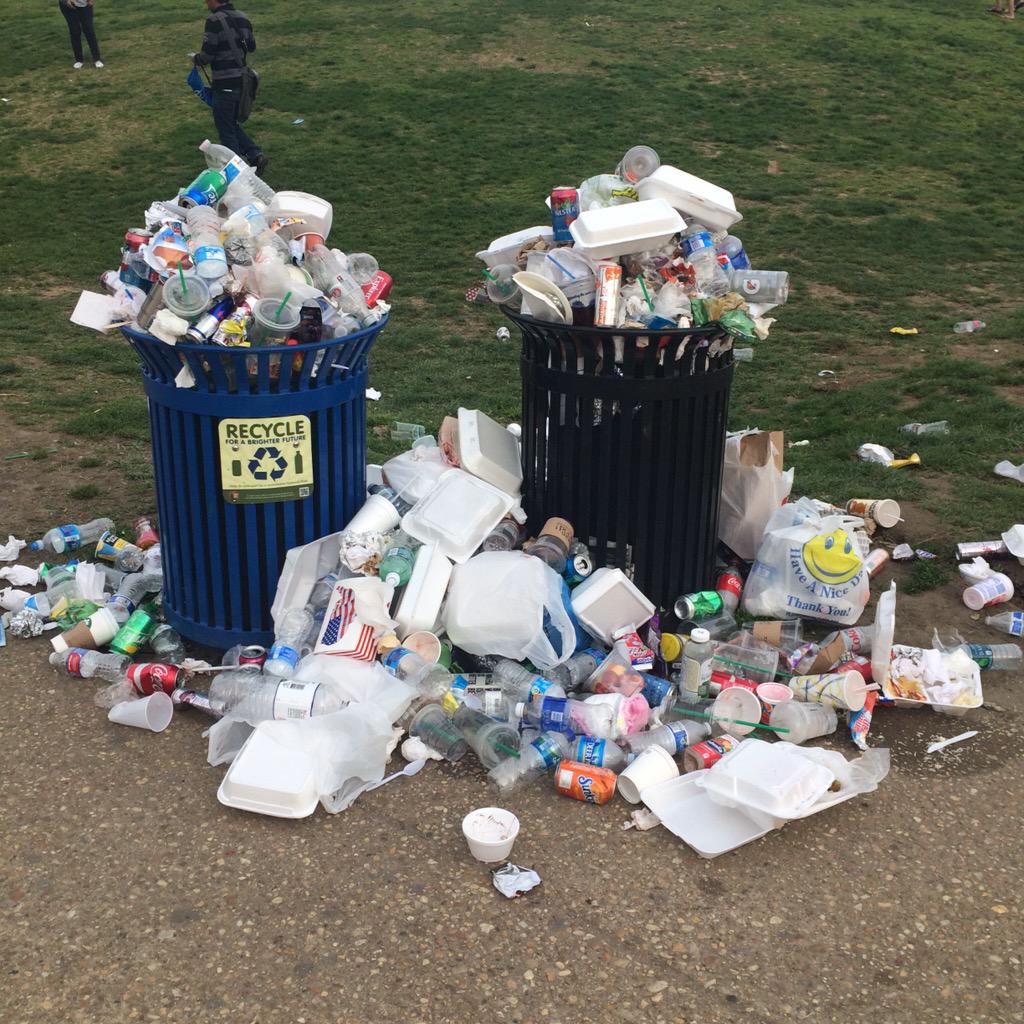 And then there's this all-time classic. Bill Nye, the Science Guy, celebrated Earth Day with President Obama.
Television personality and climate change activist Bill Nye was skewered online for announcing an Air Force One flight with President Obama on Earth Day.

"Heading down to DC to catch an #EarthDay flight on Air Force One tomorrow with the President. We're going to #ActOnClimate," Mr. Nye wrote on Twitter late Tuesday. The two men will fly across the country to discuss the Florida Everglades climate change's effect on the economy.
As Glenn Reynolds, the Instapundit, frequently says, I'll start caring about things like Earth Day when the people who are trying to shove environmentalism down my throat start acting like it's important.
The president and flaky old Bill burned nearly 10,000 gallons of jet fuel in Air Force One on their little trip.
FLASHBACK 1977: Earth Day Co-Founder Composts Dead Girlfriend
Here's an inconvenient truth about the self-described founder of a Earth Day: He murdered and composted his girlfriend.
Environmental activist and self-proclaimed Earth Day co-founder Ira Einhorn had a dark side. NBC News reported in 2011 that Einhorn was found guilty of murdering his ex-girlfriend, Helen Maddux and stuffing her "composted" body inside a trunk.
Einhorn jumped bail and spent 23 years evading authorities and hiding out all over Europe. Finally, he was caught and extradited to the U.S. from France, where he was put on trial and convicted of murder. He is currently serving a life sentence.
---
---