We did find one single country where Muslim terrorism is non-existent.  That would be Japan.
Muslim terrorism is a problem almost all over the world. Muslims are emigrating in huge numbers to countries in Western Europe and the United States as well. As the number of Muslim immigrants increases so do the Muslim terrorists and the acts of terrorism.
No country that allows mass immigration by Muslims is exempt from Muslim terrorists.
Most recently in France Muslim terrorists attacked a magazine over their depiction of the pedophile prophet Mohammed. That same scenario was played out a number of years ago in Denmark.
Every summer Paris is rocked by "youth riots" where cars are torched in buildings and burned, not by a cross-section of French kids, but by Muslim kids.
In England Muslim terrorists recently waited outside an army base and attacked the soldier leaving the base. They videotaped is beheading.
The US has been under attack as well. The recent conviction of the "Boston bomber," who set off terrorist bombs the Boston Marathon is a reminder that we are not safe.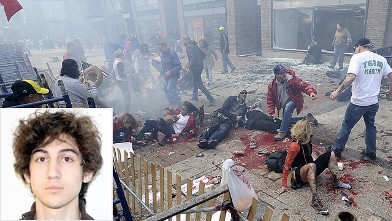 Muslim terrorist enablers will simply say, "Oh but the terrorists are a tiny percentage of Muslims."  To which we add, no they're not.
France. A new, widely-covered poll shows that a full 16% of French people have positive attitudes toward ISIS. That includes 27% of French between the ages of 18-24. Anne-Elizabeth Moutet of Newsweek wrote, "This is the ideology of young French Muslims from immigrant backgrounds…these are the same people who torch synagogues."

Britain. In 2006, a poll for the Sunday Telegraph found that 40% of British Muslims wanted shariah law in the United Kingdom, and that 20% backed the 7/7 bombers.Another poll from that year showed that 45% of British Muslims said that 9/11 was an American/Israeli conspiracy; that poll showed that one-quarter of British Muslims believed that the 7/7 bombings were justified.
That's just France and Britain.  The linked article also highlights the Muslim countries where the new immigrants are coming from.  51% of Pakistanis grieved for Osama Bin Laden.  In Morocco 61% approved of terrorist attacks on US troops.  In Jordan, a solid US ally, 60% approve of Hamas.  And then there's the US.
A 2013 pollfrom Pew showed that 13% of American Muslims said that violence against civilians is often, sometimes or rarely justified to defend Islam. … 19 percent of American Muslims as of 2011 said they were either favorable toward Al Qaeda or didn't know.
Those numbers don't represent a "tiny minority."  Those numbers are also found in countries that encourage Muslim immigration, welcome immigrant Muslims onto their welfare rolls, and accommodate their religious traditions of barbarism.
We did find one country where Muslim terrorism is non-existent.  That would be Japan.  The Japanese have found a simple method to stop Muslim terrorist is their tracks.
Japan is practically closed to Muslims.

Officially, immigration to Japan is not closed to Muslims. But the number of the immigration permits given to the applicants from Islamic countries is very low. Obtaining a working visa is not easy for adepts of Islam, even if they are physicians, engineers and managers sent by foreign companies that are active in the region. As a result, Japan is "a country without Muslims".
No Muslims, no terrorism.  What a concept.
Perhaps the West should take a lesson from the Japanese, although we're pretty far down the "surrender path" in Western Europe and in the US as well.  Certainly, with our current president there is no chance on clamping down on Muslim immigration (or Mexican illegal immigration for that matter) but perhaps a new administration will take a more tolerant view of what it means to be an American and deal with this problem in a "more Japanese" fashion.
---
---
Sign up to get alerts from Joe!