The story from Senator Harry Reid was that the severe facial injuries and broken ribs he got on New Year's Day were the result of an accident involving a resistance band:
"The band broke, and it catapulted me backwards onto one side. I crashed into a series of cabinets we have and, fortunately, it missed my temple by just a little tiny bit and it hit me on my right eye and it broke a number of bones around my eye and broke four ribs;" explained the former Majority leader and soon-to-be ex-Senator.
Do you buy that? Enter Larry Reid:
Larry is Harry's brother and according to eyewitnesses, Larry showed up to an Alcoholics Anonymous (AA) meeting on New Year's Eve in Henderson, Nevada – a short distance from where brother Harry lives and the big resistance band accident occured.  Larry had blood on his clothing, a swollen left hand and told fellow AA members that he'd been in a fight with a family member – and was afraid the Secret Service was coming to get him.
Well, so much for the "anonymous" part of AA… But does this look like it happened because of a resistance band?
JOHN HINDERAKER at Powerline Blog is reporting an outrageous story having to do with what really might have happened that night:
I got a phone call from a man named Easton Elliott, a businessman who lives in the Las Vegas area, who told me what he thinks really happened to Harry Reid: Elliott spent a portion of last New Year's Eve at an Alcoholics Anonymous meeting in Henderson, Nevada, with about 20 other people.

Some time between 10:00 and 11:30 p.m., a man entered the meeting and introduced himself as "Larry." He had blood on his clothing, his left hand was swollen and he appeared to be somewhat intoxicated and was visibly agitated.

In a group discussion, Larry said he had been at a family get-together, and had just had a fight with a family member, but didn't remember much because he had blacked out. When he came to, he was rolling on the ground, fighting with a family member, and his clothes were bloody. Now, he said, he was frightened that the Secret Service would come after him.

Easton Elliott didn't think much more about Larry until, several weeks later, he saw a newspaper story about Larry Reid, Harry Reid's brother, being arrested for DUI and assaulting a highway patrolman. The story was accompanied by a photograph, and Elliott immediately recognized Larry Reid as the "Larry" who had attended the AA meeting on New Year's Eve.
Harry Reid was admitted to a hospital on New Year's Day, and coupled with Larry's references to the Secret Service, Elliot concluded the family member with whom Larry fought was in fact, Harry Reid.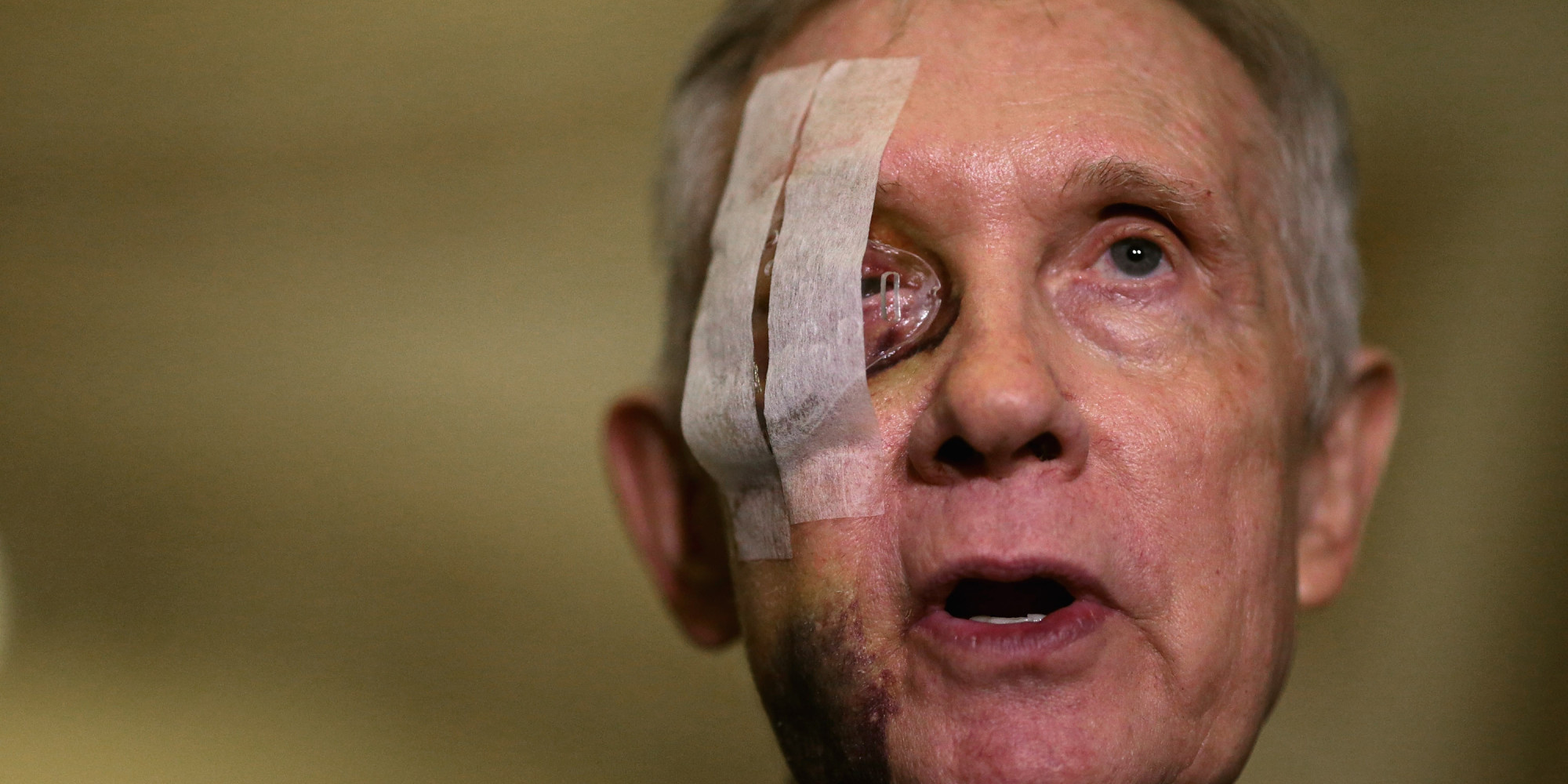 Does anybody believe the story of the exercise equipment?
And isn't Harry the ex-boxer? He must be as bad a pugilist as he is a Senator.
Since then, the 73-year-old brother Larry has been arrested and charged with driving drunk and hitting a police officer.
Larry Reid was arrested for DUI about 12:40 p.m. between Boulder City and Searchlight in Nevada. Mr. Reid was also charged with battery of a police officer, driving across a median, resisting arrest, not wearing a seat belt and possession of a gun while under the influence of alcohol.
A trooper saw Larry Reid's Lexus SUV in the dirt median with the engine still running, Patrol spokesman Trooper Loy Hixson said.
Harry Reid said in a video message last week he would not seek re-election next year, and threw his weight behind New York Senator Chuck Schumer to replace him as minority leader when he leaves office.
Hinderaker added; "Perhaps those reporters who were so eager to dig through Sarah Palin's dumpster and track down Mitt Romney's high school classmates will now swing into action, carry out an actual investigation, and either confirm or refute the events described by Mr. Elliott…"
Indeed. Developing…
Like me on Facebook – if you dare. No one turned away.
RELATED VIDEO CONTENT: Harry Reid admits to blindness
Sign up to get alerts from Joe!