There's no peace in Baltimore.  On the heels of the funeral of Freddie Gray, a black man who died from a severed spine while in police custody, the Race Industry has taken to the streets and they're working hard to burn the city to the ground.
The Mayor of Baltimore, Stephanie Rawlings-Blake, a black, very progressive Democrat, yesterday basically turned the city over to the rioters.  She announced that she had ordered the police to back off and give "demonstrators" the space to "exercise their first amendment rights."  Then, in the next breath, she noted that she'd also ordered them to let rioters have the space they needed to destroy whatever they were going to destroy.
In the aftermath of that fiasco, 15 Baltimore police officers were injured, two are hospitalized and in serious condition.  Looters are getting their Christmas shopping done early.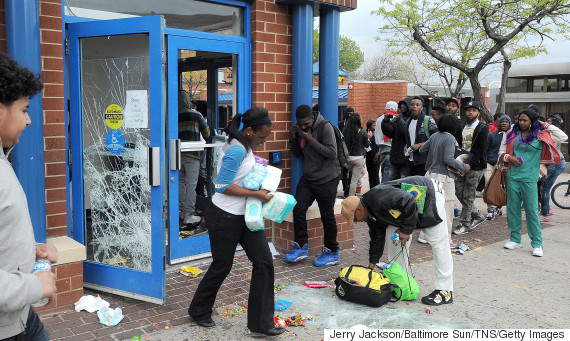 In the wake of the terrorism unleashed by the rioters, many from outside Baltimore, Maryland's new Republican governor announced that the mayor had finally – after several days of rioting – requested help.  He declared a state of emergency and called out the National Guard.
The Mayor finally, late last night, got around to declaring a lock down and a curfew starting tonight at 10pm.
This whole episode is the result of progressive black politicians in Baltimore – and in Washington – refusing to face the reality of the black mobs.  The proximate "cause" of the rioting was the death in police custody of Freddie Gray.  Honestly, that's just an excuse for the black political power structure, starting with Barack Obama and his new Attorney General Loretta Lynch, to enable mob violence.
We'll see what happens today and tonight.  We expect more rioting, because the animals who are involved know the National Guard and police will be using rubber bullets and pepper balls.  In the meantime, here's what they'll be facing.
Baltimore Police say they have received a "credible threat" that rival gangs have teamed up to "take out" law enforcement officers.
We hope the National Guard has combat experience fighting terrorists, because that's what these animals are.  Hopefully they'll have live ammunition and hopefully, they'll use it to protect themselves and any law abiding residents who still happen to be living in Baltimore.
We'd like to see the Mayor's protection detail pulled and put on the streets.
We'll be following the events in Baltimore, we expect President Obama to offer up some platitudes.  "If I lived in a city after I move out of the White House, it would look like Baltimore."
Oh, and Al Sharpron is on the way.
---
---
Sign up to get alerts from Joe!