Almost 200  Muslims who live in America have gone to the Middle East to fight for ISIS.  That's 200 that we know about.
And of those 200 about forty have come back to America. Well, again, that's forty that we know about. Or at least forty that the Obama administration and the Department of Homeland Security are willing to tell us about.
DHS Sec. Jeh Johnson said, "We have in fact kept close tabs on those who we believe have left and those who've come back. A number of individuals have been arrested or investigated and we have systems in place to track these individuals."
The money part of that quote is where Johnson says, "But you can't know everything."
To say that we have no confidence in Johnson or the administration when it comes to protecting US citizens is a big overstatement. This administration, with the help of Establishment Republicans like John McCain and John Boehner, have willingly left our borders wide open and unsecured.
Johnson admits "we can't know everything" but even in cases where the administration and the Department of Homeland Security had full knowledge of homegrown terrorists, it did nothing.
The administration had full knowledge of the Tsaraev brothers, better known as the Boston bombers. The Russians, before the Obama administration completely destroyed any working relationship with them, warned US security officials about the brothers and their close relationship to radical Muslims in Russia.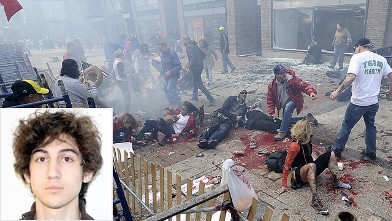 The administration and the Department of Homeland Security specifically did nothing. They even stood by while people who had known connections to Muslim terrorist organizations collected tens of thousands of dollars in welfare benefits. They knew the brothers were dangerous and they did absolutely nothing.
We also have zero confidence that only 200 Muslim residents of America are fighting with ISIS, and we have zero confidence that only forty ISIS terrorists are back in the US.
With respect to the idea that DHS is tracking these people, we find that to be a bad joke. After all, based on what we've seen of the administration "negotiating" with the Muslim terrorist government in Iran, were pretty sure that the Obama administration's sympathies lie with the 200.
---
---
Sign up to get alerts from Joe!