We've been predicting for a couple of years that Hillary would not only never be President, she likely wouldn't be the Democratic candidate for President either.
Specifically that her numbers, like Teddy Kennedy in 1979, would peak on the day she announced her campaign.
In the last week, Mrs. Clinton has become a walking commercial on Democratic hypocrisy for the Republicans.
She ran her State Department email through a private email server located at her New York home.  She didn't even bother with the pretense of a state.gov account.  The security of her personal server was less than adequate sucked, and it had a custom feature not found in servers in either the corporate or government world of email: it had an erase and delete function that was state of the art.  Find an email you sent that you don't like?  It's quite literally gone forever.  Hillary's server is truly Lois Lerner's wet dream.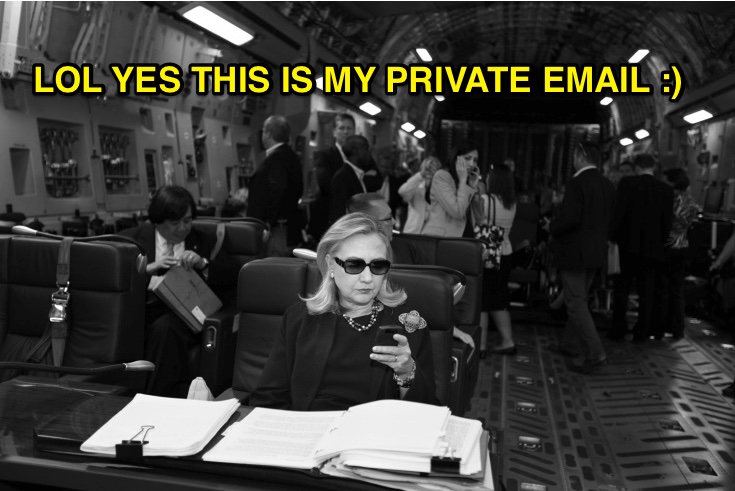 But, as the informercial panderers say, "There's MORE!"
Here's Hillary in 2007 talking about email and the Bush administration.
Secret email accounts.  Ya gotta love it.  Oh, and, there's MORE!!
It seems as though when Mrs. Clinton was Secretary of State, she fired the Ambassador to Kenya for, in part, using private email accounts and refusing to use his state.gov email account.
Very soon after the Ambassador's arrival in May 2011, he broadcast his lack of confidence in the information management staff. Because the information management office could not change the Department's policy for handling Sensitive But Unclassified material, he assumed charge of the mission's information management operations. He ordered a commercial Internet connection installed in his embassy office bathroom so he could work there on a laptop not connected to the Department email system. He drafted and distributed a mission policy authorizing himself and other mission personnel to use commercial email for daily communication of official government business. During the inspection, the Ambassador continued to use commercial email for official government business. The Department email system provides automatic security, record-keeping, and backup functions as required. The Ambassador's requirements for use of commercial email in the office and his flouting of direct instructions to adhere to Department policy have placed the information management staff in a conundrum: balancing the desire to be responsive to their mission leader and the need to adhere to Department regulations and government information security standards.
Obviously, any "conundrums" that may have been present with the Ambassador's flaunting of regulations and government information security standards were "resolved" for Mrs. Clinton.  Or something.
And now, we have the crowing glory.
Hillary is going to be the featured speaker at a journalism awards ceremony.
Organizers of the March 23 Toner Prize Celebration, which is named after the late New York Times reporter Robin Toner, told the Center for Public Integrity the event would be open to reporters.
She's going to be in front of a whole room full of reporters.  And then there's this…
However, the keynote speaker, Clinton, does not plan to take their inquiries.

Business Insider reached out to Clinton's office to confirm the report. A Clinton spokesman referred the question back to the event's organizers.
No questions.  Hillary's taking no stinking questions.  Maybe she'll respond to questions by email.
---
---
Sign up to get alerts from Joe!