We considered putting up a completely blank post.  Indicating "nothing."  The Veterans Administration may – may – have somebody who gives a damn about the Vets they're supposed to be serving but we're hard pressed to find any.  What we've found instead is a government agency rife with corruption.  Administrators keeping their patients "off the books" so their timely appointment statistics looked good and they got bonuses.  So what if they died?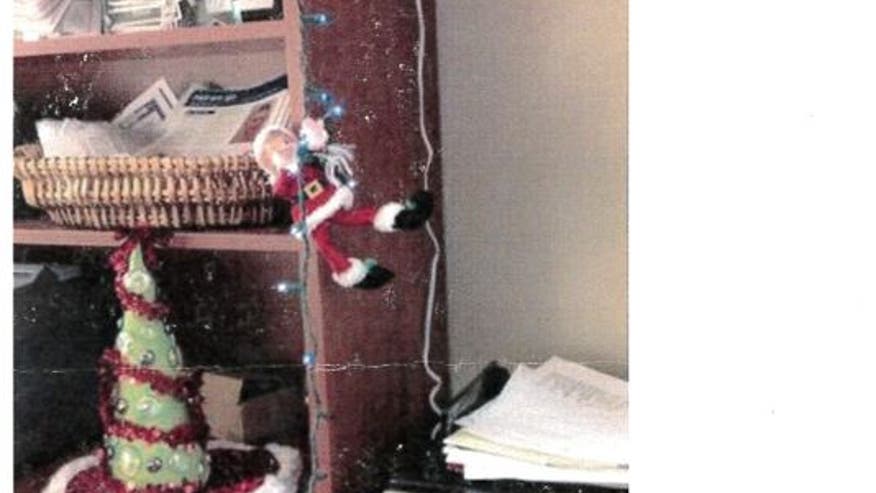 The latest version of a caring administrator comes from Indianapolis.
A social worker at an Indianapolis Veteran Affairs clinic was disciplined earlier this year after sending emails to colleagues that contained photos of an elf figurine posed to mock the mental health problems of combat veterans.

Robin Paul, who manages the Roudebush Veteran Affairs Medical Center's Seamless Transition Integrated Care Clinic, on Dec. 18 sent an email with photos showing an elf pleading for Xanax and hanging himself with an electrical cord…
Robin Paul is no entry level schmuck.  Robin Paul is a management schmuck.
But never fear, the VA is on the case.
"Management was made aware of the situation a month and a half ago and addressed it at the time," [Julie] Webb [VA spokestwit] told FoxNews.com.
Where do they get these people?  Webb also noted that Ms. Paul is now doing a great job providing our veterans "quality health care."  Ms. Paul was unavailable for comment, but apparently she sent a letter of apology to the VA.  Here's the apology, WARNING don't read it unless you've got a strong stomach.
"I would like to sincerely apologize for the email message and I take full responsibility for this poor judgment," Paul wrote in the email. "I have put my heart and soul into my work with Veterans for many years. I hold all veterans and military personnel in the highest regard and am deeply remorseful for any hurt this may have caused."
Ms. Paul, you have no heart.  You have no soul.  What we hope you have is a reserved place in Hell.  We agree with Pete Hegseth,  CEO of Concerned Veterans of America …
"While this shameful act may be an isolated incident, what's not isolated are the almost daily reports that feed the perception that VA leadership are detached from the urgent challenges facing returning veterans," Hegseth said. "But it's even more troubling that Ms. Paul's shockingly poor judgment did not merit immediate firing. She should have been fired the minute such poor judgment was discovered and failing to do so only reinforces VA's track record of failing to hold its employees accountable."
Ms. Paul is still drawing a check from the VA, earning an annual salary of $79,916, according to the Star.
And Lois Lerner is collecting a six figure IRS retirement check.
---
---
Sign up to get alerts from Joe!