Last weekend was the 50th anniversary of the march across the bridge that is remembered by the civil rights movement as "Bloody Sunday."  It was the culmination of the Montgomery to Selma march by Dr. Martin Luther King and his followers, protesting segregation.
The marchers were met with baton wielding cops and attack dogs under the command of one Bull Connor, the chief of police in Selma.  Bull Connor was also a member of the Democratic National Committee.
President Obama showed up and made the sappy, race baiting speech you'd have expected.  There were some other people there who were ignored by the press.  Specifically, the Bush family and the entire Republican delegation for the state of Alabama.  Not only were they ignored, they were edited out of the pictures that were printed in the media.
This was the front page of the New York Times.  This is the picture that was edited.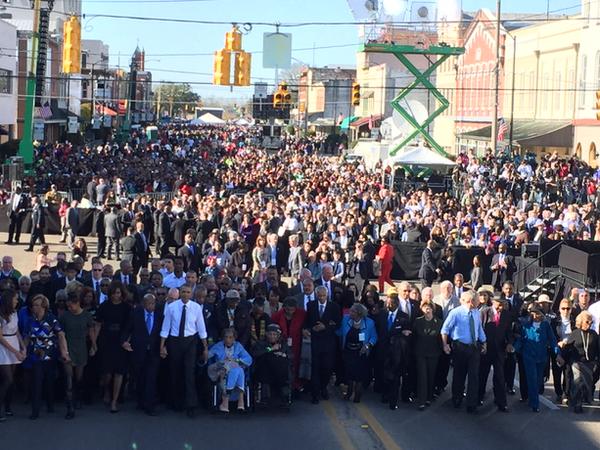 The edit took out the right side of the full picture.  In the frame, to the right of the lady with blue coat, you'll find the Bush family.  They weren't noted as having attended in the NYT account, either.
There was one other discrepancy in their story.  The Times neglected to mention that a prominent politician didn't show up.  That would be Hillary Clinton.  She didn't even send Bill or Chelsea.  The error, oversight (?), was caught by Maggie Haberman in the NYT political blog.
When President Obama walked across the Edmund Pettus Bridge in Selma, Ala., this past weekend, George W. Bush was the only former president who joined him. Former President Bill Clinton and his wife, Hillary Rodham Clinton, were not there for the celebration of the 50th anniversary of the march across that bridge made by African-Americans pressing for broader rights.

Mrs. Clinton appeared in Selma for the annual observation of Bloody Sunday during her presidential campaign in 2007, alongside her husband and Mr. Obama, who was then her opponent.
The Clintons were at a "Clinton Global Initiative" bash in Florida, no doubt hosting fat cats who have been contributing millions to their "foundation."  Aides to Mrs. Clinton said the family was in a bind because of the scheduling.
Yeah, right.  They change the anniversary of "Bloody Sunday" every year.
---
---
Sign up to get alerts from Joe!