CNN's Christiane Amanpour mocked Israel Prime Minister Benjamin Netanyahu, saying his speech before Congress was 'Strangelovian' – referring to a character from the political farce, "Dr. Strangelove: Or How I Learned to Love the Bomb" – a black and white film released just after the Cuban Missile Crisis in 1964.
"Dr. Strangelove" is often sited by showbiz and mainstream media types as a "black comedy" or "satire" directed by the brilliant Stanley Kubrick (2001: A Space Oddessey, The Shining, Full Metal Jacket, A Clockwork Orange, etc.). Truth is, the film was a fantastic, but farcical look at Cold War mentality of it's day.
The character of Dr. Strangelove (played by the equally brilliant Peter Sellers – one of three roles Sellers handled in the film) is an exaggerated-to-make-a-point device, injected into the story for purposes of comic relief. Clearly, whether you're a hippie in the 60's or a left-winger at CNN currently (but I repeat myself) – you see it differently.
This year sees the 50th anniversary of when Jack D. Ripper (Kubrick's insane general in "Strangelove") lanched a nuclear strike on the Soviets to defend the purity of "our precious bodily fluids" from Communist subversion.
Meanwhile, Dr. Stranglove himself is a Monty Python-esque character who was added by Kubrick and his co-writer to the screenplay and did not appear in the based-upon book (Peter George's novel 'Red Alert').
On a side-note, the film's release was delayed when JFK was assasinated in light of the very real Bay of Pigs and Cuban Missile Crisis. In fact, Columbia Pictures added a disclaimer included before the film started:
It is the stated position of the United States Air Force that their safeguards would prevent the occurrence of such events as are depicted in this film.
This was not exactly true at the time, but Columbia probably did not know that. This was back when studios actually still cared about the country where they made gobs of money, but my guess is that disclaimer was critical to getting the thing released at all. But I daydream.. Eventually it hit theaters and has been uber-controversial since.
The film depicts the military as power-hungry, dim-witted, paranoid buffoons, so of course it's one of the left's favorite all-time movies – always included on any Hollywood "Top 50" type list – even though it doesn't come close to even being one of Kubrick's best efforts.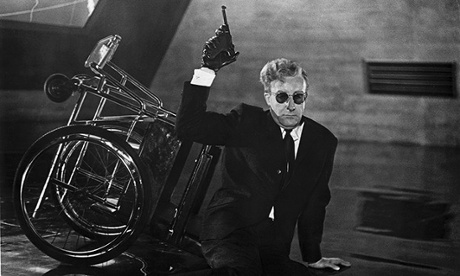 Dr. Strangelove himself (the Kubrick-invented character in the film, that is) is a wacky German lunatic scientist, bound to a wheel-chair and funny accent.
He's an advisor to the President and is afflicted with an uncontrollable prosthetic arm that he can't prevent from constantly making Nazi salutes for comedic effect.
That's not all: Dr. Strangelove is clearly a former Nazi himself with a phony disability, who threatens other characters with death whenever he feels it necessary.
The "doctor" strongly advises to pre-emptitvely strike the enemy with nuclear missiles without the President's approval or knowledge – and at one point, mistakenly stands up and must quickly proclaim; "Mein Führer! I can walk!"
In addition to "Strange Love;" the names of most of the other character's in the film are a play on words or phrases surrounding sex or excrement. I guess Christiane Amanpour thought that part was hysterical? But then again, she's so much smarter than us and has an accent, so she must be a film connoisseur, right? She gets it!..
Not knocking the film – I happen to love it – I'm just trying to convince you of Kubrick's intention of making a farce. A good one. But nothing can stop the left from calling it "irreverent" or "dark" or "poinant" – "provocative" – anything but what it is. A FARCE. The ending completely concedes to anyone who believes Kubrick was being serious at any point, that in fact, he wasn't. Slim Pickens character "rides" an intercontinental ballistic nuclear missile, waving his cowboy hat and yelling; "yee-haw!" Perhaps that's the scene that stuck in Christiane Amanpour's mind when "reporting" on Netanyahu's speech before Congress this week?
So, in any event, either CNN's Christiane Amanpour thinks Benjamin Netanyahu is a lunatic Nazi-sympathizer and an insanely afflicted homicidal maniac bent on pre-emptive nuclear war; or she just reads whatever is in the teleprompter.
I have my guess, but either way it's best summed up by Ron Burgandy: "Stay classy, CNN"
Friend me on Facebook – if you dare. No one turned away.
Or better yet: Swap out the words; "San Diego" for "Christiane Amanpour" in the scene BELOW:
Sign up to get alerts from Joe!