Three Key GOP States Predicted to Lose Their White Voting Majority…
In a prediction that has yet to bear any semblance of fruit, Ronald Brownstein of the National Journal this week writes that three key states that are predicted to lose their white majorities around the middle of the 21st Century may just be capable of passing the keys off to Democrats in future presidential races.
Brownstein reports that though many have predicted that a declining number of white voters in three key states, Arizona, Texas and Georgia, Democrats in these states have yet to garner any momentum there, but they remain hopeful and optimistic.
While Democrats have hoped in the past for a much different political landscape in Arizona, Georgia, and Texas, they haven't yet given up hope… No, quite the opposite. Despite suffering several mid-term disappointments in these states just last year.
For example, Georgia hopeful Michelle Nunn got pummeled in her US Senate bid last year, despite Atlanta Journal Constitution and WSB-TV, an Atlanta television station, having released polls suggesting a dead heat as late as October 2014.  Many felt Nunn's Kennedy-like status in the Southern state (she's the daughter of former GA Senator Sam Nunn) would give her a spot in the royal court of national Democrats, but this failed to materialize.
Nonetheless, Democrats see the growing diversity in Arizona and Texas as key to their ability to trouncing the GOP presidential electoral strategy.
Texas, with its 38 (YES, 38 Electoral College votes) figures BIG in the GOP modern election scenario. Not only are Arizona and Texas both experiencing strong economic growth, but they are also having what Brownstein calls, "some of the most sustained minority-population growth anywhere.''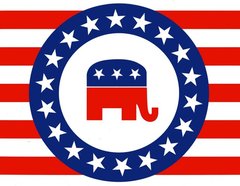 If the GOP cannot gain a substantial share of these new voters, they will be forced to continue to rely on a shrinking share of white votes, which have, so far, been a strong coalition for GOP candidates at the federal and state levels.
This phenomenon could put all three states 'back into play' and land them on the list of what are now termed 'reach' states for Democrats.
In other words, Democrats in these states, haven't given up and are hoping an immigration wave in the Southwest will eventually allow them to catch up to Arizona and Texas republicans.
This is despite having repeatedly lost over and over since Bill Clinton carried Georgia in 1992 (Clinton squeaked by in November but his assistance to runoff candidate Wyche Fowler the following month was not enough to beat US Senate challenger Paul Coverdell in December 1992). Clinton also carried Arizona in 1996.
The notably left Atlanta Journal Constitution didn't wait two minutes before jumping to report on the possible chance of decline of republicans in the Peach state, writing that, "the slow, steady march of demographic change will drive whites down to 40 percent of Georgia's electorate by 2060." Yes, this from you guys at the AJC that told us Michelle Nunn was in a dead heat last year at the end of October when just a few weeks later, the actual vote tally had her opponent, now US Senator David Perdue, at +8? See HERE.
Will this influx of diversity put these states into 'reach' for a Democrat presidential nominee? It's hard to imagine and for now, far from likely.