MANY dichotomies are inherent in the west's fight – to the death – against Islamic barbarism, whether perpetrated under the jihadi banner of ISIS or another of its terror hydras.
THE point being, while ISIS Caliphate-driven monsters behead, shoot and otherwise rape and pillage, an increasing amount of westerners (Muslim born and converts, males and females alike) are joining their ranks.
INHERENTLY, the females featured below fit into separate categories; the truly innocent and the willfully malignant. Westerners dare not conflate the two. World's apart.
MOST significantly, what does this mean for America and the west in toto?
Commentary By Adina Kutnicki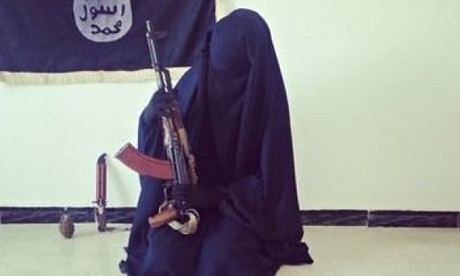 JUST when you thought that Islamic sadism couldn't get any worse, the fact of the matter is that those who are sexually ravaged, under the banner of the newly self-proclaimed Caliphate, would likely prefer a swift head chopping, rather than what they are forced to endure. Repeatedly. No kidding.
BUT before we reiterate the sexually charged component to Islamic jihad, rest assured, the western linkage is no less frightening. Fully compliant and not coerced. Hmm.
IN this regard, it is intrinsic for westerners to separate the guilty, as charged, jihadis, from those who are captives due to their fate. Take special note of the parts played by female recruits into the ranks of ISIS, as well as into the general jihadi arena. Consider their complete willingness to die under the banner of Islam:
Hundreds of young women and girls are leaving their homes in western countries to join Islamic fighters in the Middle East, causing increasing concern among counter-terrorism investigators.
Girls as young as 14 or 15 are travelling mainly to Syria to marry jihadis, bear their children and join communities of fighters, with a small number taking up arms. Many are recruited via social media.
Women and girls appear to make up about 10% of those leaving Europe, North America and Australia to link up with jihadi groups, including Islamic State (Isis). France has the highest number of female jihadi recruits, with 63 in the region – about 25% of the total – and at least another 60 believed to be considering the move.
In most cases, women and girls appear to have left home to marry jihadis, drawn to the idea of supporting their "brother fighters" and having "jihadist children to continue the spread of Islam", said Louis Caprioli, former head of the French security agency Direction de la Surveillance du Territoire. "If their husband dies, they will be given adulation as the wife of a martyr."
Five people, including a sister and brother, were arrested in France earlier this month suspected of belonging to a ring in central France that specialised in recruiting young French women, according to Bernard Cazeneuve, the interior minister.
Counter-terrorism experts in the UK believe about 50 British girls and women have joined Isis, about a tenth of those known to have travelled to Syria to fight. Many are believed to be based in Raqqa, the eastern Syrian city that has become an Isis stronghold.
Those identified by researchers at the International Centre for the Study of Radicalisation at Kings College London are mainly aged between 16 and 24. Many are university graduates, and have left behind caring families in their home countries. At least 40 women have left Germany to join Isis in Syria and Iraq in what appears to be a growing trend of teenagers becoming radicalised and travelling to the Middle East without their parents' permission.
"The youngest was 13-years-old," Hans-Georg Maassen, president of the Federal Office for the Protection of the Constitution, told the Rheinische Post. "Four underage women left with a romantic idea of jihad marriage and married young male fighters who they had got to know via the internet."
In Austria, the case of two teenage friends, Samra Kesinovic, 16, and Sabina Selimovic, 15, who ran away from their homes in Vienna to join jihadis in Syria, may be "only the tip of the iceberg", said Heinz Gärtner, director of the Austrian Institute for International Politics. An estimated 14 women and girls are known to have left Austria to fight in the Middle East, according to the interior ministry.
The US does not have available data on women and girls joining Isis fighters in Syria, a senior intelligence official said in an emailed statement. "We do not have numbers to share on the number of women linked to [Isis] or fighting for them," the official said.
Daveed Gartenstein-Ross, a counter-terrorism expert at the Washington-based Foundation for Defense of Democracies, downplayed the issue in the US, saying the number of women and girls joining Isis was of concern, but not an epidemic. "It's a threat, but it's [one] among many potential threats coming out of Syria," he said.
Karim Pakzad, of the French Institute of International and Strategic Relations, said some young women had "an almost romantic idea of war and warriors.
"There's a certain fascination even with the head and throat-cutting. It's an adventure." Some may feel more respected and important than in their home countries, he added.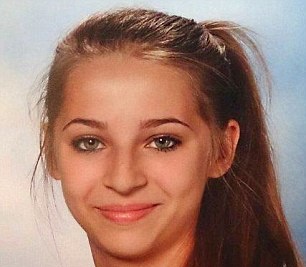 But Shaista Gohir, of the UK Muslim Women's Network, said little was known about the young women's motivation or what happened to them after leaving home. "Some of these girls are very young and naive, they don't understand the conflict or their faith, and they are easily manipulated. Some of them are taking young children with them; some may believe they are taking part in a humanitarian mission," she said.
Social media plays a crucial role in recruiting young women to join Isis in the Middle East, according to many experts.
Some British women and girls have posted pictures of themselves carrying AK-47s, grenades and in one case a severed head, as they pledge allegiance to Isis. But they are also tweeting pictures of food, restaurants and sunsets to present a positive picture of the life awaiting young women in an attempt to lure more from the UK.
Mia Bloom, a security studies professor at Massachusetts University and author of Bombshell: Women and Terrorism, said the recruitment campaign painted a "Disney-like" picture of life in the caliphate. Some young women were offered financial incentives, such as travel expenses or compensation for bearing children.
Women already living amid Isis fighters used social media adeptly to portray Syria as a utopia and to attract foreign women to join their "sisterhood in the caliphate", she said. "The idea of living in the caliphate is a very positive and powerful one that these women hold dear to their heart."
But the reality was very different, she said. Both Bloom and Rolf Tophoven, director of Germany's Institute for Terrorism Research and Security Policy, said reports indicated that women had been raped, abused, sold into slavery or forced to marry. "[Isis] is a strictly Islamist, brutal movement … the power, the leadership structure, are clearly a male domain," said Tophoven.
Messages between a British Isis fighter in Syria and his common-law wife, read in a UK court last month, revealed that many fighters are taking several wives.
In an article in Foreign Policy focusing on Isis's attitudes to women, former CIA analysts Aki Peritz and Tara Maller said fighters were "committing horrific sexual violence on a seemingly industrial scale.
"For example, the United Nations last month estimated that [Isis] has forced some 1,500 women, teenage girls and boys into sexual slavery. Amnesty International released a blistering document noting that [Isis] abducts whole families in northern Iraq for sexual assault and worse.
"Even in the first few days following the fall of Mosul in June, women's rights activists reported multiple incidents of [Isis] fighters going door to door, kidnapping and raping Mosul's women."Jihadi poster girls…..read the whole brewing phenomenon…
SO aside from the more publicized decapitations and throat slitting, equally horrific and compelling is the enslavement and torture perpetrated through sexual jihad, to those who are dragged kicking and screaming. Significantly, not only are Muslim-born girls willingly joining their ranks, but westerners are too. Call it the new teenage craze and rage!
ON the other hand, those who truly require the west's assistance are girls who want nothing to do with jihad in any shape or form. Enter: the crimes against Yazidi females and others who are ensnared and captured in their Islamic web!
Speaking anonymously to Niqash, a publication focusing on Iraqi issues, doctors working in and around Mosul, the largest city in Iraq under Islamic State control, say Yazidis are among the most abused of those facing extinction at the hands of the terrorist group.
"It is a public, collective act of rape," said one doctor, who remained anonymous for fear of retribution from Islamic State terrorists. "I treated about ten women and I was stunned to find one who was just 13 years old. Her mental and physical health were very bad," he noted.
Another woman arrived in a such a state that doctors almost pronounced her dead. "She had been on a hunger strike after being raped by several of the IS gunmen and if she had not been brought to hospital, I am sure she would be dead by now," the doctor said.
Another doctor in Mosul told the story of "Layla," a Yazidi girl who is the focal point of the article, perhaps because hers was the story doctors could tell with the most detail. Layla was not a sex slave, but married off to a jihadist, one who forced her to convert to Islam and was clearly abusive. Layla was brought to live in the small town of Tal Afar, where her Arab neighbors noticed her deterioration, and finally one woman requested that her husband let her travel to Mosul for medical treatment. He, surprisingly, acquiesced, though demanding another Islamic State jihadist accompany the women.
A doctor described Layla as "pale and she had physical and psychological pain," yet by virtue of being relatively intact, he said, "she was in better condition than some of the other Yazidi women we have treated here. Those women were beaten because they did not yield to the demands of the IS group members."
The plight of Yazidi women during the Islamic State takeover of northern Iraq has become one of the most catastrophic humanitarian disasters of this war. The few that have escaped tell of a miserable existence in terrorist-run brothels, in which the jihadists force themselves by the dozen on the women, some barely adolescents. The brothels are often run by women, the wives of Islamic State jihadists or recruits to the Islamic State themselves, many from Western countries. While the number of Yazidis being subjected to this abuse remains unknown, it is estimated that it may be in the thousands, with reports of hundreds of Yazidi women being abducted in individual attacks on towns.
CONSEQUENTIALLY, the deafening silence from the leadership of the free world regarding their horrific plight, plus that of other victims from Islamic barbarism, will truly blow back into America and elsewhere.
FOR if the above prognosis is off the mark, please explain why, all of a sudden,Islam's mandate to behead has taken root in America? Similarly, why has their march into full throttle dominance reared its head at this juncture, demonstrably, by forming their own U.S. political party based on Islamic dictates?