Alton Nolen, fresh from converting to Islam, attacked 54-year-old Colleen Hufford, stabbing her several times before cutting her head off. Let me repeat that: She had her head severed.
Then Alex moved on to his next target – 43-year-old Traci Johnson, who is in stable condition after receiving "numerous wounds," as the media calls it. She was stabbed repeatedly and on her way to being beheaded as well, as I call it.
But something went wrong. A crazed executive, whose obviously an extremist, right-wing, Tea Party conservative Christian who voted for Reagan, ran toward the noise and stopped the nice man committing workplace violence.
But how?
With his gun. The scumbag was stabbing Traci Johnson when Vaughan shot him. She's alive.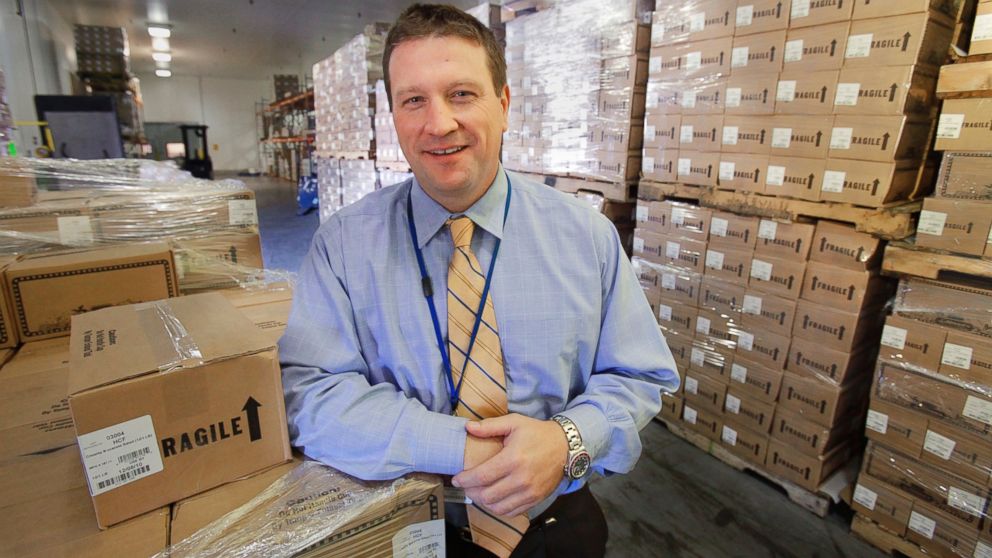 Steve Sisney/The Oklahoman/AP Photo
Sheriff John Whetsel reported that a certain Mark Vaughn, the CEO (over-paid, greedy, one-percenter.. probably white, Christian, extremist, NRA-type with Halliburton stock in his portfolio) at Vaughn's Food, where the attacks took place, grabbed his gun without hesitation and stopped the killing; "Without regard to himself or his safety," Whetsel said.
Turns out Alton Nolan had been trying to convert others to Islam and when things weren't working out for him – he started beheading people. Does any of this sound familiar? If Mark Vaughn hadn't brought a gun to a knife fight, how many woman's heads would he have gotten to? Let's listen, shall we?
"It could have gotten a lot worse, this guy definitely was not going to stop. And he didn't stop until he was shot" said Moore Police Sgt. Jeremy Lewis.
"Mark put an end to the threat by shooting the suspect and saving the life of a second victim who was being actively attacked by the suspect," Oklahoma County Sheriff John Whetsel said in a statement.
"There is every reason to believe that the lives of untold others were saved who would have been targeted by the suspect if it hadn't been for Deputy Vaughan's actions," he said.
However, the FBI and other investigators have determined Alex's religion had nothing to do with it and there wasn't any link to terrorism, so it's workplace violence – that's all! Oh, yes, they mentioned that the; "Beheading raises questions, but officials say there's no terror link…"
A radicalized Muslim, after failing to convert others to Islam, stabs and slices a woman's head off, then moves on to another woman, and stabs her as well? No terror link? Nothing to link this to anything having to do with Islam?… Muslim terror, perhaps? Jihad, I don't know.
As you were. Nothing to see here, except a woman's head on the ground.
But as promised – here's FIVE THINGS you need to know about Mark Vaughn – an American hero: Hat tip heavy.com
1. He's a Corporate Suit
Vaughan is the COO and President of Vaughan's Food. He's also the president of Allison's Gourmet Kitchens, also based in Moore.

2. Vaughan Is a Sheriff's Deputy
Vaughan is also the Vice-president of the Oklahoma City Gun Club.

3. He Sold Part of His Company for $18 Million in 2011
In 2011, Vaughan Foods was acquired by an Oregon food company called Reser's for a cool $18.25 million..

For the rest, continue reading here:
Yeah, baby! Rich, gun-lover strikes again!
-30-
by Rodney Lee Conover
 Friend him on Facebook – no one refused
www.facebook.com/rodneyleeconover

email : kowenhoven@gmail.com
follow Rodney Lee on Twitter @RCCA08

by the way, Twitter is #prettystupid
Sign up to get alerts from Joe!