John Kerry, our Secretary of State, had a tough weekend as our Chief Diplomat.  Off the top of our head, there was the religious cleansing going on in Iraq with ISIS butchering both Christians and Kurds.  There was Gaza, where the Israelis were fighting to defend their citizens from near constant terrorist attacks from Hamas rockets and their terror tunnel network.  Then there is Syria, where a couple of thousand Arabs were butchered last week, but they were butchered by other Arabs so it's not newsworthy.  Kinda like a bunch of murders in Chicago on any given weekend.
We're sure there was lots more in the world of diplomatic problems to be solved, like Ukraine and the Russian dudes which we plum clean forgot in the first paragraph.  Obviously, being the Chief Diplomat is a very tough job.
To prove he's the right man for the job, the press made sure that Secretary Kerry's agenda was kept under wraps, lest whoever the "bad guys of the moment" are find out what he's up to and launch a diplomatic counter offensive.  We'll note at this juncture that we have a really hard time – and to be fair it's late in the day and we're tired – imagining anything more offensive than US foreign policy.
Anyway, a Curmudgeon approved super-secret photographer was on the job at Kerry's summertime headquarters in Nantucket, MA.  Here's a great shot of the Secretary defending US interests worldwide.
Yes gentle readers, that really is a pink girls bike.  In tow is his white dog, likely some sort of French breed, named "Surrender."  Yes Sir.  That's our John Kerry, reporting for duty.  The same guy who was so anxious to help these fellows.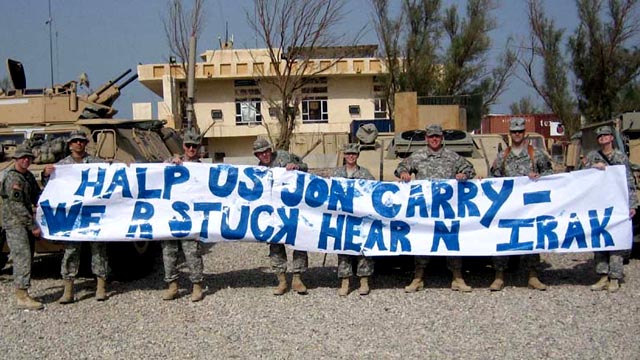 Really makes you proud of your country, doesn't it.  We're sure that once again, Michelle has found something for which to be proud right here in her Amerika.
---
---
Related articles
Sign up to get alerts from Joe!