Harry Reid Took Money From Koch Brother's Lobbyist?
Why can't Harry Reid take campaign cash from a Koch lobbyist? As long as Republicans get money from the Main Street Republican PAC – funded by labor unions and George Soros connections – then why not?
So what if Reid just got through slamming Republicans on the Senate Floor for taking funds from the evil Koch Brothers? It's different when he does it – right?
Let's everybody just take cash from whoever and vote whichever way the biggest money blows through?
Hat tip – Andrew Stiles @ The Washington Free Beacon
Add Senate Majority Leader Harry Reid to the list of Senate Democrats who have benefitted from Koch money. In fact, he might as well pay one of his grandchildren to stitch Koch insignias onto his suit to denote their sponsorship:
Many Republican senators might as well wear Koch insignias to denote their sponsorship.

— Senator Harry Reid (@SenatorReid) Apr 7, 2014
According to campaign finance records, former Koch Industries lobbyist Robert P. Hall III donated $500 to Reid's campaign in 2003.

Hall worked for Koch Industries from 1998 to 2004, according to the Center for Responsive Politics. He was previously a lobbyist for INVISTA, the Koch Industries subsidiary that Democrats are targeting in their latest campaign to "other" the Koch brothers. Hall currently lobbies for General Electric, the chief sponsor of explanatory journalism website Vox.com. Coincidence? Maybe.
In public, Reid has attacked the Kochs as "un-American" and "against everything that's good for America." This is not surprising, however, given the fact that Reid is a raging hypocrite.
The revelation that Reid is a Koch-funded politician comes days after the majority leader's former colleague, Hillary Clinton, was caught discussing her upcoming memoir at the David H. Koch Theater in Manhattan.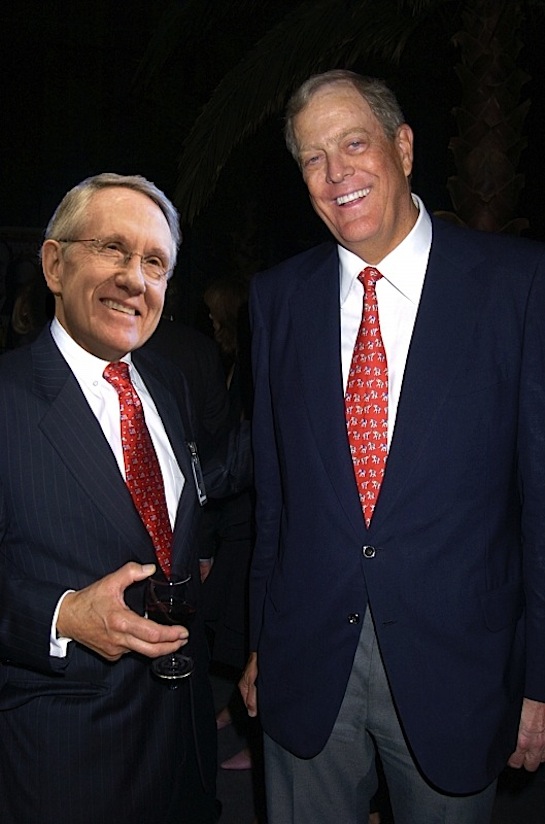 Reid & Robert P. Hall III certainly look happy together here!!!
-30-
Send hate mail to [email protected]
follow Rodney Lee onTwitter @RCCA08
Friend him on Facebook – if you dare –
https://www.facebook.com/rodneyleeconover