The Living Man Interview – America Reborn With Tertelgte – (Video/Audio)
By Susan Duclos
The Living Man aka Ernie Wayne Tertelgte agreed to an exclusive Before It's News interview, but in reality it turned out to be a statement by Mr. Tertelgt in which he attempts to impart over three decades of his research into a nearly 30 minute interview.
Mr. Tertelgte has become an Internet hero, so to speak, for videos of him facing off with a judge in a Montana courtroom, leaving her speechless and literally forcing her to walk out of the courtroom to prevent Mr. Tertelgte from getting his information on the record (Video of the exchange at the link). That video has been viewed nearly 550,000 times.
In his next appearance before the same judge, she had him removed from the courtroom, in handcuffs, then proceeded without him being allowed to confront the witnesses against him (Video of that exchange at the second link).
His story, his reasons for needing to be brought to court because he had to have a "case number" in order to speak what he calls the "anti-cancer virus," meaning the truth and to have it on the public record, are all revealed in the video/audio below.
Because Mr. Tertelgte was compressing the information, there is alot given by this wordsmith in a short amount of time and it would be prudent to get a pen and paper, write down the relevant information and do as he suggests, research all of it for yourself.
[Update] Thanks to reader Agent Orange, for those that listened to the interview above, the CRIS report Mr. Tertelgte spoke of is the Court Registry Investment Report.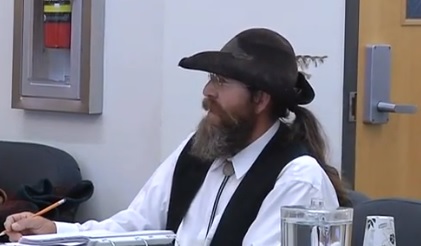 Susan Duclos owns/writes Wake up America